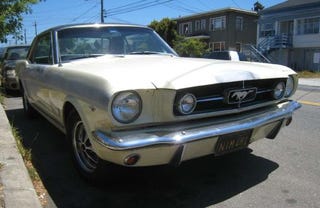 Welcome to
Down On The Street
, where we admire old vehicles found parked on the streets of the Island That Rust Forgot: Alameda, California. We
saw an Alameda Mustang
just a couple of days ago, but I'm making the rules here and I say there's no reason we can't have a two-Mustang week! I found this '65 parked on the same block as the
'78 Datsun 280Z
, the
1986 Toyota Corolla GT-S
and the
1960 Cadillac
. Alameda has plenty of first-generation Mustangs and I haven't been in any hurry to shoot all of them, but this one really caught my eye with its interesting mix of black-plate originality and no-hurry-to-paint-it primer patches.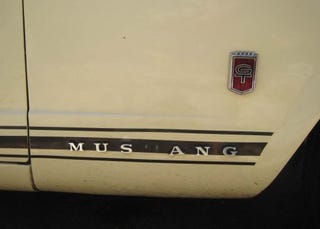 The vinyl top looks fairly recent, so most likely this car is undergoing one of those very slow restorations and being used as a driver in the meantime. Perhaps it will become a trailer queen once the project is done, but for now it shares the road with Tauruses and Sentras.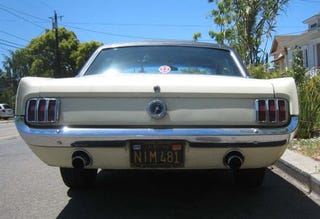 The GT option package got you a 289 V8, disc brakes (which were still quite exotic for a Detroit car at the time), fog lights, and stripes. The most powerful engine option was a 4-barrel 289 with 10:1 compression, good for 271 horsepower. The 2,690-pound '65 Nova could be had with a 300-horse 327, giving the Chevy a slightly better power-to-weight ratio than the 2,465-pound Mustang.