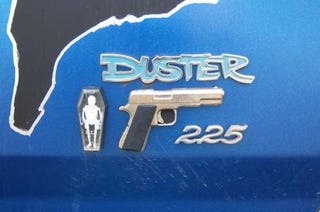 This is
Down On The Street Bonus Edition
, where we check out interesting street-parked cars located in places other than the
Island That Rust Forgot
. Today's find is a '72 Plymouth Duster (or maybe it's a '71) with an innovative customization job.
Dorsai3d
shot the Billy Jack's Revenge on the damp streets of Portland, Oregon, and we can't help but admire the homemade hood tach,
Electra 225
emblems used to indicate
Slant Six
engine displacement, and cryptic graphics. Make the jump to see all the photos and read Dorsai3d's description.
Here are some pictures of an interesting Duster (it just begged for jalop when I saw it...) I found parked on the street while visiting Pacific U just outside Portland. While I've been here, I've seen a surprising number of interesting cars on the streets as daily drivers (and a nigh-limitless supply of Subaru!). I hope to also get pictures of a first gen accord that I've seen around, if I can figure out where it parks.