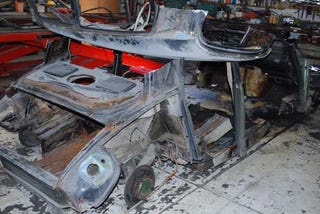 We
took a look at Hanzel Auto Body Works
, located in Oakland's historic Auto Row district for 90 years, last winter and saw that Henry Hanzel's shop is definitely the epicenter for all things Citroën in Northern California. A few weeks back, I got an email that started "I'll be cutting up a rusted-out Citroën DS at my shop in downtown Oakland tomorrow if you would like to come by." How could I pass up such an opportunity? Not only was there the promised sliced-and-diced DS, but several solid DSs, a 2CV, a Traction-Avant, and Henry's daily-driver DS wagon parked out front. Jump away for all the photos.
We've already had one French DOTS Bonus Edition today, but what's wrong with having a DOTS Bonus
Bonus
Edition? This wagon really is Henry Hanzel's daily driver; we're talking about a man who grew up going on road trips across the United States in a Traction-Avant, who drove a 2CV in high school, and whose parents owned Oakland's Citroën and Panhard dealerships back in the day. Yes, I totally want a Citroën now!