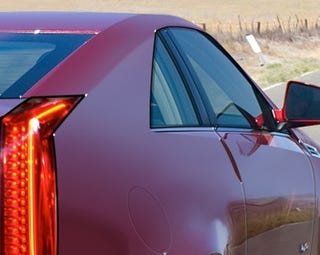 Cadillac plans to take the wraps off the production CTS Coupe at the
LA Auto Show
in November, less than a year after showing the bold concept version in Detroit. We're now also hearing we should expect an up-powered
Cadillac CTS-V Coupe
to bow at this January's
Detroit Auto Show
. Rather than make you wait until then, the gallery below shows off what we're expecting the all-new Coupe will look like with the added power and V-styling. Hit the jump for our full report.
Last year at Detroit, in addition to the
Cadillac CTS Coupe concept
, GM debuted the new production
CTS-V sedan
, which will go on sale before the end of the year. Given that, as well as what we've heard from our sources, it's highly likely we'll see the CTS-V Coupe get its sheet whipped off at Cobo Hall in January. We expect power to come from the same supercharged LSA as the new
Cadillac CTS-V sedan
, pumping out 556 HP and transferring 551 lb-ft of torque to the wheels through a Tremec TR-6060 6-speed manual or an optional paddle-shifting 6-speed automatic. Expectations are for the 0-to-60 and quarter mile times to be slightly faster than the V sedan due to a lower mass and better aerodynamics. As with the V sedan, the Coupe will carry the same Magnetic Ride Control suspension to help it set blistering lap records at your favorite track. Stopping power is provided by Brembo in the form of six piston calipers in the front with a four piston setup in the rear and rolling hardware comes in the form of 19-inch wheels wrapped with Michelin Pilot Sport 2 summer tires. When the CTS-V Coupe rolls off the Lansing Grand River Plant next year expect to snatch one up from your local Cadillac dealer for somewhere around $60,000. That is, if you can get one for MSRP. M3, RS4 and C63 drivers beware.
Some say he has a tattoo of a Saleen S7 on his rear end. Others tell us he was born with a penchant for oil rather than his mum's milk. All we know is he's called the Auto Insider and he's always ready to provide the scoop from the other side of Eight Mile.