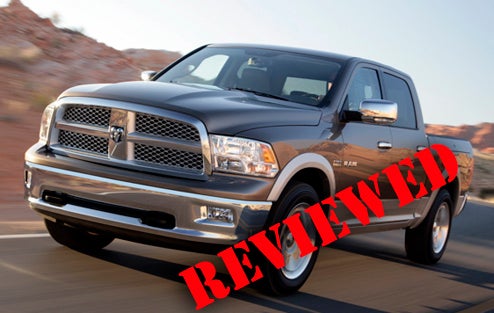 We haven't had a chance in the saddle of the new 2009 Dodge Ram yet, but PickupTrucks.com guru Mike Levine had a chance to review and test drive pretty much every single version of the new hauler from the Ram-headed brand. Mike's put together a pretty exhaustive look at the whole lineup of all new Ram pickups, and what's his verdict?
"After driving several Ram models in a variety of scenarios, we're still as enthusiastic about the 2009 Dodge Ram 1500 as we were when it was first reveled at the Detroit auto show. Most half-ton truck buyers don't need three-quarter-ton towing and hauling capability in their pickups, and we think most people will find the improved ride comfort a more-than-fair tradeoff for trailering and payload ratings that equal what the Ram could do in 2008."
Sounds to us like Dodge is making a laser-light-like move directly at the half-ton market — maybe the remaining engineers over at Chrysler have the right idea after all. Head on over to
PickupTrucks.com
to read all about it — and take a run through the gallery below to see it.
[
PickupTrucks.com
]