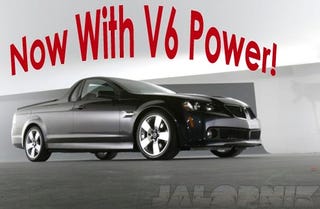 Sources at GM are beginning to whisper that the
2010 Pontiac G8 El Camino
Pontiac G8 ST
will be getting a version of the direct injection V6 present in the Cadillac CTS. First to tell us a two-engine plan for the new
El Camino
G8 ST
was a real possibility was Pontiac marketing director Craig Bierley, who told us the option was "absolutely on the table." Now
Edmunds
' site always with the exclusive
Inside Line
on happenings at the General
claims
it's more than likely not just a possibility, but a reality.
Jalopnik Snap Judgment:
When we speculated on the success of the
Pontiac G8 ST
with only a big honkin' 361 HP V8, we wondered aloud if a V6 option might not make a lot of sense. Given the disintegration of the full size truck market, and a largely unserved compact truck market, a 3.6-liter V6-powered
El Camino
G8 ST
could be a huge success. Is it wrong that we're almost
more
excited about a well designed V6 in the truck-car than the tire melting power of a V8? Note we said "almost."