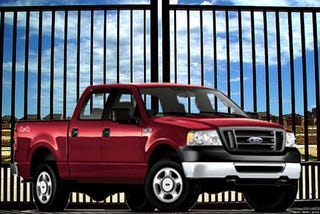 A homeowners association in the wealthy Dallas, Texas suburb of Frisco has been sending resident Jim Greenwood threatening letters due to his insistence on parking his new Ford F-150 truck in his driveway. The gated community of Stonebriar, where Greenwood lives, doesn't allow trucks, RV's, golf carts, trailers and other undesirable vehicles parked in front of houses. The rules do allow Escalades, Ridgelines and even the hideous looking Chevrolet Avalanche. HOA representative Bill Osborn explained the difference with the most ridiculous
nouveau riche
answer ever:
"The high-end vehicles that are allowed are plush with amenities and covers on the back. It doesn't look like a pickup. It's fancier."
They even allow the
Lincoln Mark LT
, which is just an F-150 with a nicer grille and chrome. This may not be a big deal in Greenwich, Glencoe or Grosse Pointe, but this is the reason why Texas has concealed handgun laws. We sympathize with Mr. Greenwood's frustration
"If we had a big Hummer, that could be in the driveway. If we had a Lincoln Mark LT, that could be in the driveway. But a Ford F-150 can't. That doesn't make sense."
We'll follow up on the story when someone gets shot. [
Dallas Morning News
]