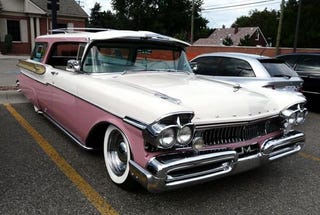 "1957 Merc Wagon, 368 Engine, PS, PB, new paint, interior, tires, wheels, some new chrome, rebuilt carb, gas tank gas tank cleand and coated, new battery, new spare & wheel. 'Very rare.' Runs Great!! $30,000."
Wagons, definitely
not cool enough
for the
Woodward Dream Cruise
. Yep, keep 'em at home.
Follow the fun at our Woodward Dream Cruise tag for all of our coverage of the 2008 Woodward Dream Cruise, the largest one-day automotive event in the world!