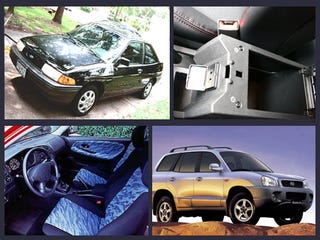 We can understand the need to cut corners to save a dime, but automakers have a nasty habit of making their vehicles seem even cheaper than they really are. We've put together our list below of the ten worst things automakers do to cheapen their cars. Learn them now, bean counters, before your kids start ducking in the back seat when they see people they know. Vote on the worst and feel free to amend with your own pet peeves in the comments below.
10. Off-Color Body Cladding


While there's nothing wrong with dark or color-keyed exterior cladding on rugged trucks or delivery vehicles, applying it to most cars is just wrong. Take the Subaru Baja, for example. The caminoized Subaru wagon already had a few strikes against it in the design apartment, and the gray plastic cladding beneath brightly colored body panels made it seem more like a Fisher-Price toy car than an expensive truck alternative.
9. No Mats On The Floor


It's no secret that dealers often make extra dough by charging extra money for items that should come standard, including essentials like floormats. Still, an empty footwell in a modern, carpeted car is going to lead to stains, a lower resale value and well, it just looks really cheap.
8. No Spare Tire


What's more fun than than having a massive tire blowout on the freeway, opening up the trunk and finding a can of Fix-a-Flat? In a lightweight sports car or a vehicle with run-flat tires it's an understandable way to reduce mass, but it's completely wrong to exclude a full-size tire from the trunk of a mid-sized sedan. It's always made us think there's a conspiracy between AAA and automakers.
7. Cheap Advertising


There's advertising that promotes the relative value of a vehicle, pointing out that it offers great features at a lower price than the competition. And then there's advertising that merely points out that the car is cheap enough for even you to afford. A great example of cheap-o advertising is this Chevy Aveo billboard, which basically assumes you're so hard-up for cash you'll rip pennies off a wall.