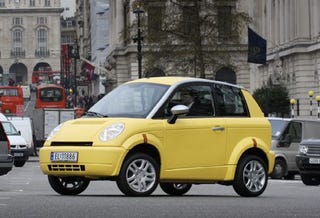 Ever-struggling long-experienced electric car maker Th!nk is planning on bringing the City to our cities in the US next year, allowing you to go gas-free, Norwegian-style. The little car has a 126-mile range on an overnight charge, and if you give the batteries a workout, the City will top out at 65 MPH. It's going to take a while to get there, though: Despite its top speed, they've only listed a 0-50 time of 16 seconds, leaving us to assume their stopwatch doesn't read high enough to record a proper 0-60 time. More specs and full release after the jump.
Th!nk must have confidence in their batteries, because the City has power locks, a 4kW electric heater, electric windows, electric mirrors, air conditioning, an electrically heated windscreen, stereo CD with MP3, USB, Bluetooth, and even a navigation & multimedia system.
Believe it or not, Th!nk claims this really is a car, not just a quadricycle. At least, that's what they're telling folks at the British International Motor Show, where the car is debuting for the UK market. That means Jeremy Clarkson's favorite, the G-Wiz electric quadricycle, shouldn't feel directly threatened when the Th!nk City is first delivered to UK customers in summer 2009. No word on pricing yet, presumably because Th!nk wants you to sell you one based on "low operating costs" before they give you sticker shock.