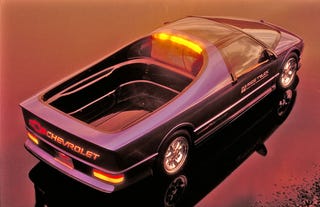 In 1989, it was increasingly clear a new revolution was coming to the truck market, but what shape it would take was still a mystery. With the staggering success of large body-on-frame SUVs and light trucks just a gleam in the eyes of automakers, GMs design team continued down the path of car-based pickups with the Chevy XT-2 Concept Truck. Although we now know car-based pickups and SUVs lost the battle to large SUVs shortly thereafter, it appears the XT-2, an essentially ignored concept here in the United States, may end up winning the design war.


The American SUVs on the market in 1989 were quite a bit different than the generation that would take over in just two years' time. We tend to focus on their crudeness and lack of creature comforts, but more importantly, nearly all "mid-size" SUVs before the 1990s period were two-door models. The exception was the Jeep Cherokee XJ, which was developed with extra doors specifically because Chevy hadn't added them to their Blazer. The other players were either Japanese, like the Isuzu Trooper or, like the Suburban, based on a larger truck platform.
The Jeep Z5 concept will look very familiar to you.
Fortunately for Chrysler, Jeep had developed a more-refined version of the four-door SUV that we know as the Jeep Grand Cherokee all the way back in 1985, when the division was owned by AMC. Unfortunately for Chrysler, when they purchased AMC and Jeep, they put the development of the Grand Cherokee project on hold in favor of new minivans. Still, Jeep had the answer, and in 1989 they released the Jeep Z5 Concept 1, which was basically the final design for the Grand Cherokee that they would bring to market in 1992.
Contrast that with the General. For 1989, GM had two futuristic concept trucks that we assume they hoped would stir enough interest to guide them in their product-making decisions. One was the youth-oriented Pontiac Stinger compact SUV. Though it wasn't particularly powerful — its engine was only good for 170 HP — it had a high level of utility, including features such as a removable picnic table and portable radio. These types of features weren't put to use, as Pontiac wasn't going to build an SUV in the near future. Ironically, many of these ideas found a home — the ill-fated and poorly designed Pontiac Aztec.