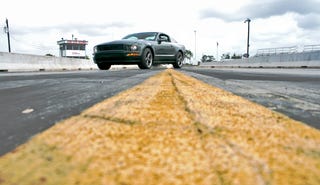 Exterior Design: *****
The 2008 Ford Mustang Bullitt isn't just a series of minor enhancements. Although the differences between the GT are subtle, they're numerous — starting with the badge delete option and Highland Green paint, a large black grille rimmed with a satin piece of chrome that hints at the car's unique importance. The dark five-spoked wheels get a similar strip of lightly colored metal around the perimeter, helping to both maintain the car's stealth and at the same time acting as an enticement to the casual observer. Even the carefully considered lack of a lip spoiler adds much to the stature of the car, signified by a refusal to ornament. A rarity these days.

Interior Design: **
The '60s-era font used for the gauges is difficult to read at first. The gigantic and distinguishing piece of machine-turned aluminum that covers the dash is also a bit worrying. Although it definitely stands out against the primarily-black interior, the word 'AIRBAGS' etched into the corner of one panel ruins it.