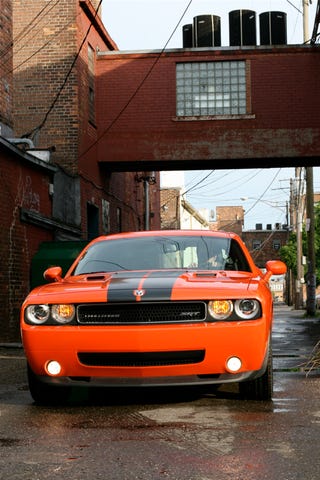 Exterior Design: *****
The 2008 Dodge Challenger SRT8 gets all five stars for providing a perfect example of a polarizingly retro design done right. You either love it or you hate it. Although we've yet to find a single soul who is willing to shout this pony down in person. From the big, strong front fascia and that creased centerline to those broad haunches in the back, this muscle car oozes bad-ass.

Interior Design: ***
Inasmuch as the exterior was crafted with pound upon pound of love and care, the interior feels like the ginger-headed stepchild of the design process. The flat plastic dash, while soft-to-the-touch, looks bare, forlorn and unloved. The woven leather steering wheel feels less sturdy than this car deserves. Still, the Challenger SRT8 gets one star for a back seat with the spaciousness of the original, another star for those bolstered front seats and yet another for the faux suede along the doors. Nice touch, Dodge.