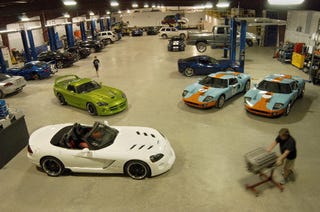 When one of the ways for employees to get out of the Hennessey Performance compound in Sealy, Texas is by driving down a drag strip, you begin to see why people perceive them as mad-for-power. However, after spending a day with the people at Hennessey Performance, I can say they're just like anyone else. Anyone else knee-deep in enthusiast's money and supercars.


The first thing you notice upon arrival to the shop along Interstate 10 is that there's really not much to notice. The new headquarters is operational but not completely finished. Therefore they've elected not to create much in the way of attention-grabbing signage other than a small sign proclaiming "Lonestar Motorsports Park." But when you're driving all manner of supercars around, you're going to get attention.
Attention, of course, is a good thing. Known for outrageously tuned vehicles, especially Vipers, the Hennessey operation does almost no major advertising outside of the DuPont Registry. When you're able to post a YouTube video of your Twin Turbo Viper racing to 220 mph, the news sort of spreads by itself.