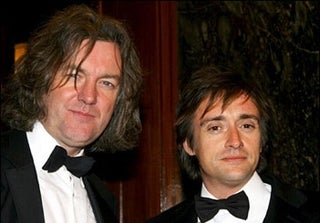 S
The UK's Telegraph is telling us today James May and Richard Hammond, two of Top Gear's threesome of hosts, have yet to sign new contracts recently presented to them by the BBC. According to the UK daily, they're holding out for the same multi-million pound deal received last month by Clarkson in his new contract. The Telegraph even goes so far as to say the two "may leave" the show if their contract demands aren't met. However, the only source they've been able to get a quote from on the record is none other than James May, who very clearly states
"The only reason I haven't signed my contract yet is because it has not yet been finalized. The current one doesn't expire until the end of July. I'm sure a new one will be sorted out soon. I'm not stomping around about Jeremy's contract with BBC Worldwide. Quite frankly, I couldn't give a **** about it."
But, the
Telegraph
's sources say different.
The paper's unnamed sources claim
"the presenters of the hit BBC Two series had not yet signed their new contracts even though their current agreements expire at the end of the month...there has been "a meltdown" in negotiations and that the pair "turned down flat" the first offer from the BBC. There has been a lot of pulling out of hair, a Mexican stand-off. For the first time it is possible that one or both might leave."
OK, obviously it'd be horrible if the two were to leave. But there really doesn't seem to be much of an indication they're doing anything but bargaining for larger contracts — something that given the pound amount Clarkson's pulling in, is well within their rights. Who these unnamed sources the
Telegraph
is quoting is anyone's guess — but ours is it's someone's agent — or Clarkson — attempting to play some one-upsmanship on behalf of the soon-to-be-contractless duo. Not a bad ploy if you ask us. We'll be watching the story nonetheless. (
Hat tip to Chris!
) [via
Telegraph
]
Photo Credit: Getty Images via BBC