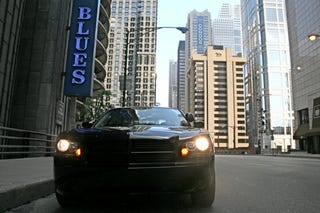 Exterior Design: ****
The 2008 Dodge Charger Police Edition benefits from the inherently aggressive looks of the standard Charger's angry headlamps and strong rear haunches. Of course, each car's style will be affected by the livery of its jurisdiction. Our car looks badass in black with the exposed steel wheels and a spot lamp mounted in the A-pillar, but we would've liked to have a push-bar in front to make it even more intimidating.

Interior Design: ***
Function rules over form inside the Police Edition. The center console and floor shifter have disappeared, making room for a large mounting surface for police equipment, relocating the autostick to the steering column. You would think a cop car might have some sort of donut holder molded into the dashboard, but there aren't even any cup holders. But the three stars come entirely from the rubber floors, making you free to spill beverages or bodily fluids without fear of a difficult cleanup, and the red night-light.