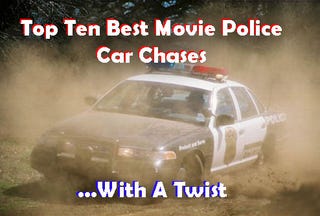 Police car chases are as much a part of American cinema as the sappy love story and the life-like animated robot movie. With so many directors having tackled the police chase it has become a bountiful field from which to pluck perfectly formed flowers of destruction and tire smoke. As we continue our Jalopnik Automotive Amerigasm this week with the second part of our review of the 2008 Dodge Charger Police Edition, we figured we should see what the celluloid forefathers of this blacked out beast have been able to do on film. Except, the "top ten car chases" thing's been done so many times it's not funny. Since we know there's more out there than the usual Bullitt-to-Bandit list we've shaken things up a little — with five of the obvious best and five of the not-so-obvious best — silver screen police car chases. So grab your popcorn and hit the jump.
Top Five Famous Police Chases:
#5: The French Connection
This one makes the cut for nothing else if not innovation. Hack Man wasn't even chasing a car in the French connection's most famous scene, indeed he was after an elevated train carrying the sniper who tried to gun him down. The brilliant use of hand held second person camera work and bumper cams while driving through thick traffic make this one a brass balls special.
Five Great Chases That Aren't As Obvious