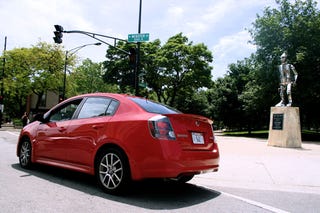 Why you should buy the 2008 Nissan Sentra SE-R Spec V:
You think hatchbacks are for Euro sissies, the Civic SI is too refined and the Caliber SRT-4 is too domestic. You need to be able to comfortably move four adults yet somehow it doesn't bother you that you're driving a car whose interior looks as though it was designed by a 16-year-old. You watch mixed martial arts. You are a 16-year-old.

Why you shouldn't buy this car:
You have no need for four doors, yet yearn for that third door in back. Owning a German car would impress your friends. You have an extra thousand or two to throw at a four-door GTI or Speed3. You care about interior quality. You watch soccer. You were born before the first Bush administration.