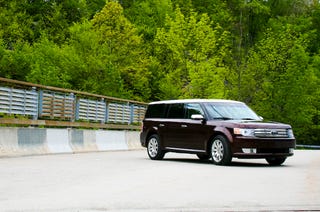 Ford PR Flack:"We wanted to give the Flex what we call a 'wow' factor."
Random Auto Journalist: "Wow, can I quote you on that?"
Press launches are interesting places. Well, if you find humanity in its most mundane and sycophantic form interesting that is. Full Disclosure: I didn't actually drive the 2009 Ford Flex, but I did sit in the passenger seat nursing my gimpy arm while Ray drove and opined on the experience.


I don't know when it happened, but at some point in its history, reviewing cars became the domain of the boring, the middle aged and the overweight. It also lost its way, becoming yet another tool for the industry to market its products (something akin to long-form, text-based advertising), rather than a critical method for helping consumers make informed decisions. It's now commonplace to see PR-speak quoted in place of actual insight.
Which brings us to the wow factor. Picked up by your typical auto journalist (though this being the jean shorts and Oakley Eye Jackets breed rather than the slightly more common blue button down and khakis variety) it causes both Ray and I to choke on our lunches, desperately trying to maintain some semblance of polite facial expression. Full Disclosure: a member of the Ford PR team offered to cut up my free lunch for me, I declined, but out of embarrassment, not integrity.
It's not that the Flex isn't good looking. It genuinely is, to our minds it's the best designed Ford since the GT, completely banishing memories of the depressingly bland Taurus X, the car the Flex is based on under its slick skin.