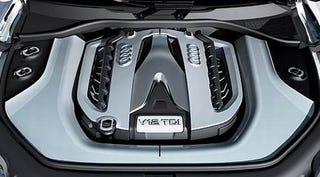 Someone in the know over at Audiblog.nl has spilled forth a detailed list of all Audi brand engines for all models through the 2011 calender year — and the release dates for new models. In addition to the big engine news, the leakers claim that we'll be seeing the rumored Audi A7 model in June of 2010, as well as an S7 version following that fall, and a return to form for the next generation Audi S4. Look below for a detail look at what's coming up for Audi in the next three years.
Audi A1

Starting at the bottom of the grid, the Audi A1 will maintain the currently planned 1.4 TFSI, but will get an 86 HP 1.2-liter TFSI good for a little less power but will be quite a bit easier on European wallets.
It seems the B8 Audi S4 will be returning to its twin-turbo V6 roots, as early as this coming November. News of this respite from V8 shenanigans comes with virtually all positive notes, considering the engine is to displace 3.0 L but grunt out 330 HP, only 10 shy of the current iteration. Add in lighter weight and the same treatment for the Avant versions and everyone's happy.
Audi S5

In September 2010 the S5 will be dumping its current V8 mill for the same twin-turbo 3.0 L TFSI V6 in the S4. This will be a cut in power, but like we said about the S4, it's not giving up much and will lighten up that porky bottom line. What's perhaps more interesting is the introduction of an Audi RS5. It will retain the same 4.2-liter V8 in the current S5, but gets a whopping increase in power up to 450 HP. With such power on tap it's a good thing there will be a new 7-speed to keep it in check.
Audi S5 Sportback


The previously unknown S5 Sportback will be on sale as of September 2010 and will get the 3.0 L twin-turbo TFSI mated to a 6-speed manual, or a 7 speed auto. We're beginning to see a theme here with S-line engines, aren't you? Hopefully this new engine won't have many teething problems.
Audi A7 Sportback

Being called the Audi A7 "Sportback" leads us to believe this as-yet unseen and unheard of version of the A7 will have a certain wagony-goodness to it, but who knows. Perhaps it'll be a big old five door, swiping the hardware from the Skoda Superb. Anyway, we digress. The A7 Sportback gets a 2.8L FSI, a 3.0 L TFSI, and a bevy of oil burners. And now what's this? An S7 Sportback? Why yes, yes it is. And this one gets a 4.0 L TFSI with 395 HP! While that's no RS6 Avant, it's nothing to sneeze at.