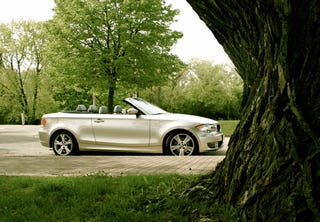 Exterior Design:***
The 2008 BMW 128i Convertible manages to put its best face forward, with wide headlights that add a new dimension to the brand's rigid look and set the 1-Series apart from the big brother 3. In profile, you'll have to buy into the flame surfacing and its fear of straight lines, which shouldn't be too hard as this is a fairly conservative take on the Bangle theme. Things fall apart in the end, literally, as the strong beltline bends angrily towards the shoulders with an over accented trunk too reminiscent of the 7-series. Attractive? Yes. Iconic? No.

Interior Design: ***
Once I accepted the rear seats serve only as a place to store shopping bags and coats, I found the little convertible to be a comfortable place to pass the time. The seats can be configured in so many ways that, if you can't find a happy seating position, you're probably freakishly deformed. Though everything is within easy reach the abundance of knobs, stalks, buttons and switches is distracting. They manage to put all of the navigation, communications, audio and climate settings under control of one knob but I need a special button on the end of a stalk to switch between average mileage and miles to empty?