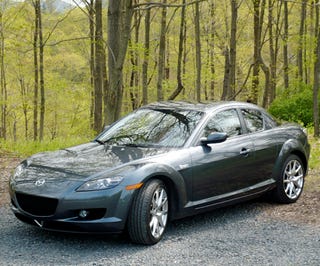 I'm going to go ahead and hazard a marketing-based guess that the good folks at Mazda want me to think of the 2008 Mazda RX-8 40th Anniversary Edition as the culmination of their design and engineering genius. Unfortunately, the first thing going through my mind was that the suicide-doored, rotary-engined little 2+2 is one profoundly and unapologetically weird automobile. And figuring out whether the RX-8 was the refreshing and fun Mitch Hedberg/Lotus Europa/Devo kind of weird or the exhausting and tiresome Gallagher/Citröen DS/Buckethead kind of weird was not immediately apparent to me as I tried like hell to get as far from the Brooklyn-Queens Expressway as possible.


It's not fair to evaluate any car, let alone one that claims to have a personality, by driving it on the BQE, where thoughts of "Does this car work as intended?" are constantly being interrupted by looming Mitsubishi Fuso box trucks full of poorly secured bulk propane cylinders. Still, I was quickly forced to notice the RX-8's thank-God excellent brakes, the well-executed Grand Touring-style ride quality, and the fact that the engine was most certainly not making the sort of sounds I was used to or the kind of power I would have really liked. That engine (and the somewhat notchy shifter) were taking up far too much of my attention, I must admit, because despite my unusually high tolerance for weirdness, I was wondering if I could tolerate it under the hood.
The RX-8's 1.3-liter twin-rotor Renesis engine has a lot more horsepower than torque, which naturally means I'm revving it pretty hard. That just adds to the stress of navigating traffic — whether it's high-speed bumper-to-bumper or walking-pace crawl. Still, it's supposedly okay, because Mazda's technological centerpiece can spin to nine grand all day. But I'd be more at ease if I was sure sure how or why that was the case. As far as I can determine (please, I beg you, hold your comments) the ingenious and decidedly weird Wankel rotary engine works by using internal combustion to bounce a fat metal triangle around inside a hollow metal kidney bean, which hula-hoops around a central shaft to generate power. Very, very smooth power, actually, that builds nicely and progressively. And before I know it, the BQE is behind me, like a long illness or a badly-planned highway, and turned into some rather nice Catskills two-lane roads. The motor is thereby transformed from a gutless liability to a forgiving instrument that rewards fluid driving, which in turn forces me to try and do some of that for a change, notchy shifter and all.