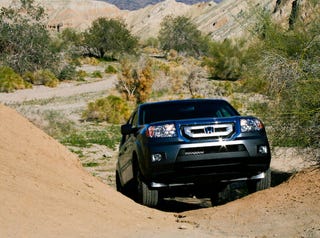 Why you should buy the 2009 Honda Pilot:
You have kids and take them places. Those places include bulk discount stores, the mountains, the beach, Home Depot and lacrosse practice. The utility in SUV appeals more than the style or image. You find the prospect of carrying sheets of plywood bizarrely intriguing. You need to tow, but don't want to buy an otherwise impractical vehicle in order to do so. You think that Ohio deserves just as much of your hard earned as Detroit.

Why you shouldn't buy this car:
You think an SUV will make you look tough and/or sporty. You're single. You live the kind of "Xtreme" lifestyle that requires a plethora of tribal tattoos. You think SUVs are the living embodiment of Hitler and George W. Bush combined.