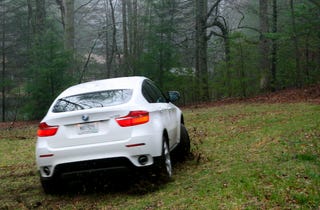 Exterior Design: ***

Like many parts of the BMW X6, its looks are promising yet flawed. Doing a great job of disguising its bulk — the X6 is huge, that lip on the rear hatch is taller than an F-150's tailgate and the pictured wheels are 20-inchers — they're nevertheless awkward in some places — the huge rear end — and disappointingly conservative in others — the boring front. It's an extremely color sensitive shape; white showing off its surfaces best while the burgundy version is just boring.


Interior Design: **

In short: conservative and impractical. By opting for a CLS-style rear console BMW unnecessarily reduced the X6's people capacity to four, but haven't made the interior special enough to justify its lack of space. It's also very color and spec sensitive; the dash looks great covered in dark leather, but the beige plastic found in base versions is just plain tacky. The rear window, big on the outside, looks like little more than a slit from the front seat. The low roofline doesn't compromise rear headroom as much as it looks though, I'm 6'2" and could sit there all day, legroom is equivalent to an X5.