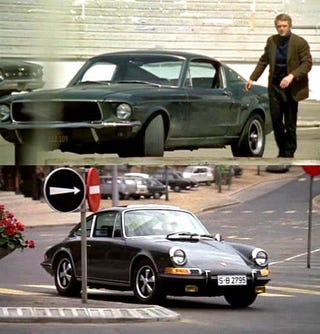 Each week we'll let two silver screen automotive icons face off and let you decide which stays and which one goes home, tailpipe between their legs. That's right, it's like an online Thunderdome — except without the death thing. We call it the "Star Car Shootout." Let's get ready to rumble.

Last week we had the inaugural match of Star Car Shootout, in which the James Bond's Lotus Esprit from The Spy Who Loved Me went head-to-head against the Lamborghini Countach from Speed Zone in a battle to decide which big screen star was cooler. We've counted the votes, and with most of the precincts now reporting, Jalopnik projects that the Lotus has won.

This week, we've got another big-shot superstar facing off against a relative underdog. Appropriately for our whole "Which is cooler?" hook, both cars co-starred with the "King of Cool" himself, Steve McQueen. Now, while McQueen certainly surrounded himself with some impressive rides over the years, for this shootout we had to pick just two of them. The others will have to wait their turn. So for this match, we're pitting the Ford Mustang 390 GT from Bullitt against the Porsche 911S 2.2L from Le Mans. Yes, you're now probably already visualizing those scenes in your head, but just in case you aren't, we've got the clips after the jump.