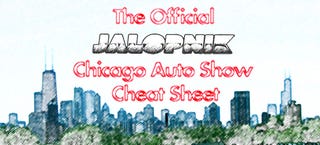 Every year, automotive journalists look forward to the Chicago Auto Show, not because it's America's largest, or its oldest (right on both counts), but because it's in Chicago. The Second City. The White City. Home of the Cubs, Buddy Guy, Al Capone, Oprah, the Sipowitz accent and deep dish pizza. This year, Chicago is going to be celebrating 100 years of auto shows with a better-than-usual roster of big reveals. You can expect Jalopnik to be there in full force—that is, when we're not downing a dog at the Wiener's Circle, a Honker's Ale at The Map Room or a slice at Gino's East. The action has already started, with embargoes breaking like crazy. It gets more exciting tonight when the curtains surrounding some of the most anticipated concepts are finally drawn open. Below, please find our official, detailed and awesome cheat sheet to the 2008 Chicago Auto Show, from Acura to Ze Germans!
Acura
Press Conference: Wednesday at 10:00 am (CST)
SCOOP: It looks like Acura is finally going to be replacing their poor-selling, two-cylinders-too-few RL with the 2009 Acura RL. Why not keep an alphanumeric that has almost no brand ID? What's the new Acura RL going to look like? We're not sure. Will it be getting the new Acura diesel engine instead of a V8? These are the questions we'll soon answer.