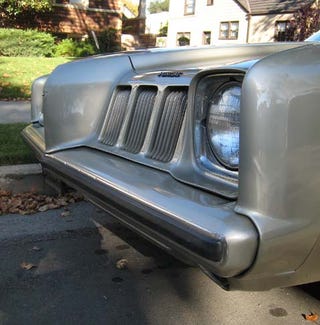 1973: The Malaise Era was just kicking off, with the Arab oil embargo and Nixon's Saturday Night Massacre letting everyone know that pessimism would be the order of the day for quite a while. The Vietnam War was clearly not going to result in another hide for Uncle Sam to nail onto the barn, and- perhaps worst of all- engine compression ratios were getting smaller and car bumpers were getting bigger. Into this quagmire slogged the '73 Pontiac Grand Am Colonnade, with wild styling that showed the how the Pontiac Division wasn't going to let those freaks over at Buick outdo them with the boat-tail Riviera.


Check out that nose! I knew I'd hit Early Malaise Era paydirt when I spotted this fine machine parked across the street from the minister's '77 Camaro. This car is in excellent, probably original, condition; this being Alameda, I wouldn't be shocked to find it's still in the hands of the original owner.



Pontiac's once-mighty 400 had lost quite a bit of oomph since the late 60s, with only 170 horses in the '73 version.



The rear side glass on the Colonnade has these classy louvers, which let the world know you were rolling in true Grand Am style.