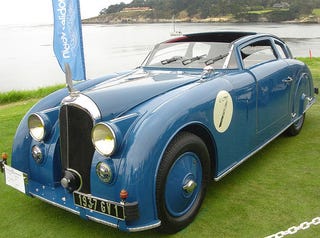 Sadly, most people know next to nothing about the 1935 Voisin C28 Aerosport other than the painfully obvious: it looks fantastic. As much a design study as it is a glimpse into the future, the C28 Aerosport was nonetheless actually built and driven. Eight vehicles in fact (some claim only 3-4), though only one blue example remains today. Equally sad, the 1935 Aerosport was the very last vehicle designed personally by Gabriel Voisin even though he lived until 1973. Luckily the C28 Aerosport is not only his finest product but his most important. Before understanding why the car is so significant (and without doubt voting it straight into our Fantasy Garage), we're going to take a look at the man behind the car.
Born in 1880, Voisin's first love was not cars, but airplanes. Actually it was flying, as airplanes had not been invented yet. In 1905 he built a glider and had it towed behind a boat. He was airborne for about 500 feet before he crashed and almost drowned. The next year he and his brother Charles started the world's first aviation firm, Les Freres Voisin. He stopped building planes after WWI, traumatized that his creations were used to kill so many people. His admirable pacifism is our gain as he turned his mechanical mind to cars. Fantastically great cars in fact, favored and beloved by the wealthy and powerful (like the French President). In all, over 11,000 Voisins were made and sold before Gabriel lost control of the company just before WW2.
Applying much of what he learned from aviation to automobiles yielded Voisin some major advantages over the competition, principally in regards to weight and aerodynamics. Exactly like today, the way to make a vehicle lighter is to use materials other than pig iron and steel. All Voisins benefited from the use of exotic materials. Especially aluminum, the use of which was exceedingly rare at the time. Gabriel favored sleeve-valve engines as they were far quieter than motors with cams. Sure, they left behind a trail of white smoke, but that's a small price to pay for such silent luxury! Voisin built loads of different engines, ranging from early straight-fours to radial 7-bangers to cylinder-war inspired V12s, all of which featured sleeves. His cars were also quite safe for the era, as his brother and business partner Charles was killed in a car crash in 1912. Traumatized, passenger safety became a design mandate for all Voisins.