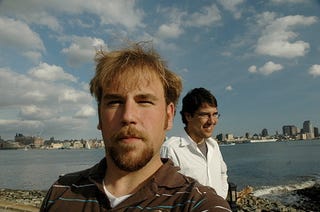 Tom Albrecht (front) and J.F. Musial, hosts of Thrill of the Road.

I always felt at home when we entered Colorado, where the plains became arid, the rabbit bush prolific. (Occasionally we would take "the southern route," heading into the harsh rocks of northern Texas or New Mexico.) Our search was for elusive river beds—sometimes full only in the spring. In the shallow pools, we would seine—this is a type of net—for fish, to find what species still remained or were gone, extinct due to human folly. When it got dark, we'd pull off to the side of the road, kick the rocks out of the way, throw tarps down, and prepare our sleeping bags. We never checked into motels. Mom would get out the Coleman stove and Dad would take notes about the day's proceedings. We kids would then run through the sagebrush until dinner. Next morning, we'd get up with the sun and shake our shoes out to make sure no scorpions had crawled in. Sometimes we'd change location every day.

I mention this only to explain why I am not bothered by my current lifestyle.
- Roger Miller


I first encountered J.F. Musial as a liason for Alex Roy. At the time, I suppose he was about 19; a college student at Stevens Institute of Technology in Hoboken, New Jersey. We got to know each other better during Roy and Maher's 31:04 crossing of the United States and the year of secrecy where we had nobody else to discuss it with. I figured that J.F. would go on to some sort of junior-management level and work his way up to a senior management position rather quickly, trading in his B5 A4 for an S8 before the age of 35.