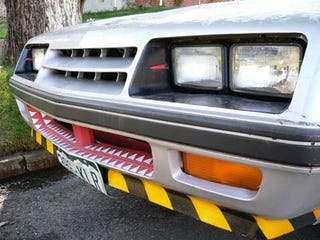 Remember the Dodge Rampage? Yes, for a while in the mid-80s you could get a factory-built Dodge Omniamino, but these days they're as rare as pastel leg warmers and cellphones that weigh 20 pounds. Fortunately, loyal Denver-based reader Kitt had camera at the ready when she spotted this fine example of the Little Front-Drive Pickup That Could (Not Sell).



The owner of this truckcar has given it his or her own special style, with a curious mix of Grateful Dead, safety-stripe, and general skullish themes.



It's nice to see Dead-related stuff on a vehicle other than a faded Subaru or beater Tercel. This Rampage gets bonus points for not having a single one of those irritating "dancing bear" images anywhere on it. Just the Steal Your Face skulls for this Mopar!