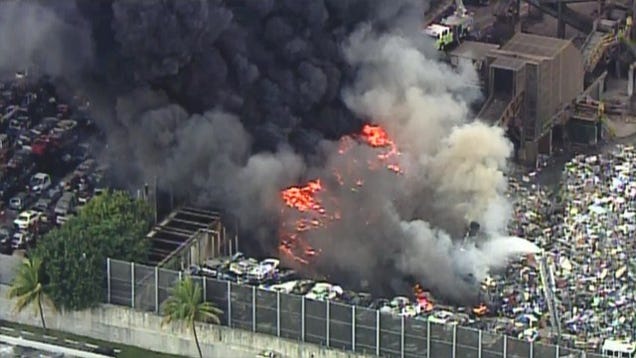 If you're in Opa Locka, Florida and you've been meaning to get down to the junkyard to dig for a new starter motor for your Ford Aspire, you may have lost your chance. Some 300 cars are said to be burning in a junkyard fire in the city in Miami-Dade County.
Florida's Local 10 News reports that the two-alarm fire broke out for unknown reasons around 10 a.m. today at at Trademark Metals Recycling. Black smoke filled the skies and traffic is said to be heavy on I-95 nearby.
Yikes! A 2-alarm car junkyard fire in Opa-locka sending thick clouds of black smoke west of I-95. Heavy traffic!! pic.twitter.com/47ZCVjyYHZ

— Arshad Parvez (@ArshadParvez) October 14, 2013
More on this fire as we get it.
Photo credit Local 10 News