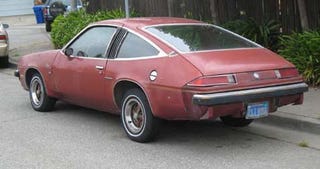 We've seen some beautiful beater Down On The Street cars in recent weeks, cars that proudly show off their battle scars and thumb their collective noses at their trailer-queen hyperrestored counterparts. Then we have the other kind of vintage beater, the cars that depreciated to 2% of their purchase price within several years of rolling off the showroom floor and were so unloved that nearly all of them went to The Crusher before they even made it to age 15. This Skyhawk is such a car.
Given how common the GM H-Body cars (Skyhawk, Monza, and Sunbird) used to be, it's a bit of a shock that you see so few of them now. But, like the once-ubiquitous Pinto, they just didn't maintain enough value to be worth fixing when they broke.


I spotted this '76 in the landfill neighborhood near the beach (where the subject of Robert Bechtle's Alameda Gran Torino lived).