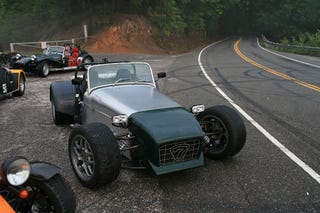 The Lotus Seven is one of the oddest and most rewarding cars ever built. Colin Chapman's bug-eyed masterwork has inspired countless copies. Three years ago, we met a large percentage of them at the Tail of the Dragon. Lightness, ho!
This is Flashback Friday, a weekly feature where we republish classic stories from the Jalopnik archives. Think of it as Jalopnik's "Best Of"' series. We chose this particular story because a friend of ours was just given — yes, given — a Lotus Elan, and because Elans and Sevens go together like tube frames and A-arms. Someone needs to give us a Lotus. Anyone? —Ed.

1957: Colin Chapman draws the design for his boyhood dream car in one week's time. This becomes the Lotus 7. 1973: Chapman sells all remaining Series IV 7s to Caterham. Lotus is out of the 7 business for good. 1974: Caterham stops selling Series IV 7s. However, due to enthusiast interest, they began producing the older but more favored Series III car. In the subsequent years, production of 7s (now often referred to as "Se7ens") blossoms around the world, with a variant of Chapman's dream machine being built in 17 countries including Estonia and India. 1985: Austrian rock singer Falco records, Rock Me Amadeus. 2007: The USA7s, whose Acting President just happens to be Jalopnik's own Al Navarro, stages a 50th birthday Se7en Se7en Se7en bash at, up, down and all around the legendary Tail of the Dragon. Oh, and they invited us to come along for the ride.