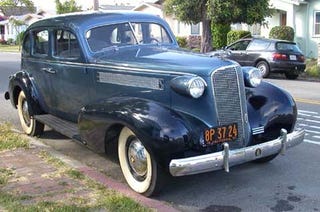 During my searches of Alameda streets for vintage iron, I've found a fair number of 50s cars but nothing much older than that. Until now, that is.


You can still use a 50-year-old car as a daily driver, but it's probably not a great idea with a 70-year-old machine (even if the machine packs a 346-cube flathead V8, as this one does).




This Cad was parked in front of the house where the '57 Pontiac Star Chief lives; I'm guessing that it normally lives in the garage and was parked on the street for some special occasion.