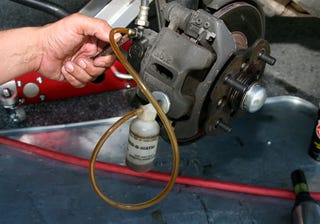 The fluid that exists as brake fluid is in reality hydraulic fluid. The helpful property of brake fluid is that it cannot be compressed. This comes in handy when the brake pedal is pushed down. Brake fluid links the parts of the brake system together as one. Brake pedal goes down. Friction is achieved! A hydraulic clutch also uses this same principle, and brake fluid to make shifting happen. An unfortunate property of brake fluid is that it is hygroscopic. Over time brake fluid draws moisture into itself all by itself. Bleeding the brake lines of air is an important step after brake work, and is also helpful to purge contaminated brake fluid from the brake lines.
Hygroscopic Action!
As do brake pads and rotors, brake fluid wears out. A more accurate description is that the fluid becomes contaminated with moisture by nature of being hygroscopic, which by definition means it has a tendency to absorb moisture from the atmosphere. Water in brake fluid bad news on two levels. Brake fluid is made to resist turning from a liquid into a gas - or boiling. Water turns from liquid to gas at 212 degrees. If the brake fluid absorbs too much water, its boiling will drop. When the brakes get hot the brake fluid will boil, and turn from liquid to gas. Not a good deal at all. Boiling of the trapped moisture also creates the vapors within the brake system, and may be where the air in the lines came from in the first place. Classic symptoms of air in the lines is a spongy brake pedal feel. Another problem with contaminated brake fluid is corrosion. Water in the brake fluid makes it corrosive to every part of the brake system. Regular flushing of brake fluid by way of bleeding can keep corrosion and brake failure away.
Dotted Lines
When it comes to bleeding brakes and replacing brake fluid try to use new brake fluid with the same DOT rating as the stuff that's already in there. DOT is an acronym for the Department of Transportation. Brake fluid is classified as DOT3, 4, 5 and so on. What the DOT ratings specify is the minimum boiling point of the brake fluid. Be wary of using some DOT 5 silicon-based brake fluids. These fluids get around the problem of water absorption by being not at all hygroscopic. While this solves one problem it creates another. Any water in the brake system settles at the lowest point, such as the bottom of a brake caliper piston. An extremely important thing to remember about brake fluid is that is will destroy painted finishes. When working with brake fluid always keep plenty of cool, clean water nearby. Immediately flush any spills. Always dispose of used brake fluid properly. Over the years we've tried plenty of different ways to bleed brakes, but always come back to this simple hose and catch container riff. We're counting on you to share your favorite brake bleeding methods or stories in the comments.
Stuff You'll Need:
· Service Manual
· About Two Hours
· Penetrating Oil or Similar Potion
· Brake Fluid
· Vinyl Tubing
· Bleed-o-Matic or Similar Catch Container
· Line or Box-End Wrench, Hand Tools
· Plenty of Cool, Clean, Water for Spills
· Siphon or Turkey Baster
· Jack and Jack Stands
· Catch Tray
· Helper [Optional]