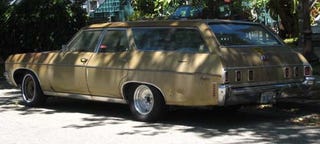 I've got some photos of nice 50s drivers I could use for today's Alameda DOTS car, but it's Friday and I'm in a wagon mood!
So howzabout this baaaaad 1970 Chevrolet Kingswood Estate station wagon? With Centerlines in the back, no less!
The owner's dachshund came after me while I was photographing the car; it even makes little yappy dogs mean!
The Kingswood Estate was the top-of-the-line Caprice-based wagon for '70; base price was $3866. This one really benefits from the "Copies 5¢" sticker.
The gas cap door in the bumper is a cool detail.
This car came with the base 350 engine, which is unfortunate given that $128.32 would have purchased the optional 400 small-block, and $133.45 was enough for the LS4 454 big-block (the LS6 wasn't officially listed as an option for the Kingswood, nor was the 4-speed, but your Chevy dealer could have made it happen).
This wagon has the same front body as my weathered Impala model! Rat own, rat own, rat own!