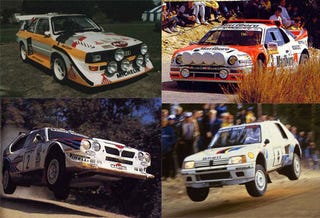 If you've read Jalopnik for longer than 20 minutes, you just knew we were going to stick a "Killer B" in our Fantasy Garage. And why wouldn't we? Created by the FIA in 1982, Group B offered manufacturers a way to show off all their engineering prowess, achieve racing victories and reap the subsequent publicity windfalls, all without the need and expense of launching a full production model. Very low homologation numbers (200 streetable cars in this case) meant that for a modest investment — especially when compared to Group A with its minimum 5,000 production cars mandate — a company could claim some serious rewards. Group A also had more stringent restrictions in terms of power, weight, materials and overall cost, not to mention a four-seat rule that in essence prohibited mid-engine machines. Group B was essentially unlimited, especially in terms of power.
And we mean unlimited. While engine displacement was strictly categorized, Group B rules failed to specify any limit in terms of boost (insert maniacal cackling here). This proved to be a loophole engineers gleefully exploited with stupefying, almost dumbfounding results. Actual horsepower numbers are murky at best and even downright cryptic. Quoted numbers for the 2.1-liter Ford RS200 for example range anywhere from 550 hp to over 800 hp. Reasons for this secrecy are many and varied. The most commonly cited are that the primitive all-wheel-drive dynamometers weren't up to the job. And because there was no cap on power, manufacturers just didn't care all that much. We would wager however, that teams didn't want the competition to know just how full-on berserk each others' cars were. But here's the skinny: Group B cars could out accelerate F1 cars. 0-60 times of less than three seconds were common – on gravel. Sadly, in the days before computerized traction control, so much unwieldy power proved to be Group B's downfall.
At the start of the 1986 season, the big boys (Audi, Ford, Lancia and Peugeot) were simply (and literally) fire-breathing. And then everything went very wrong. Near Sintra in Portugal, driver Joaquim Santos came out of a gully only to find dozens of fans standing at the peak. His Ford RS200 careered into the crowd, killing three and injuring more than 30. Every team immediately pulled out of the race. Soon after, Lancia's Henri Toivonen inexplicably missed a tight left-hander and plunged into a ditch. The fuel tanks of his Delta S4 ruptured and burst into flames, incinerating him and his co-driver Sergio Cresto. A few more races took place that year, though rife with nationalistic argument (e.g., the Italians said the skirts on the Peugeots were too low). The 1987 season was canceled, and soon after the FIA banned Group B altogether. Notwithstanding the human tragedies, it was is one of the saddest days in the history of sport.
General Group B Radness


In Jeremy Clarkson's most excellent book, I Know You Got Soul, everybody's favorite Thatcherite discusses the Concorde, its crash in Paris and subsequent decommissioning. He quips, "for the first time since the Titanic we were actually mourning the loss of the machine itself." Jezza actually flew aboard the very last Concorde flight. As he walked off the plane in London he thought to himself, "This is one small step for a man. But a giant leap backwards for mankind." This also happens to be true of the Killer Bs. Group B was essentially a sanctioned hoon division. Unlimited forced-induction power, the first mature applications of AWD in motorsport and ultra-lightweight, exotic materials are the things our dreams are made of.
To quote Clarkson one last time, "You see, unlike any other machine that has been mothballed or donated to a museum, Concorde has not been replaced with something better or faster." With the exception of the Group B cars, Jeremy. Think we're being a bit dramatic? The Bugatti Veyron, with its 8.0-liter 16-cylinder engine, four turbochargers, 1,000+ horsepower, Cray supercomputer and million-dollar price tag hits 60 mph in 2.5 seconds. The Ford RS200's 0-60 mph time was 2.1 seconds, you guessed it, in the dirt. Sigh...
Audi Quattro S1


Audi is of course the granddaddy of Group B. Because the class hardly had any rules, Audi was free to introduce AWD (with a little help from Jensen) to the world in 1980. The results were epoch making and are still being felt today. However, at first there was much doubt whether a heavy and complicated AWD system would be stout enough for rallying. Audi won its first rally on its first attempt by nine minutes. From that moment on, there was no doubt at all about AWD. Other manufacturers struggled to get AWD cars of their own into production.