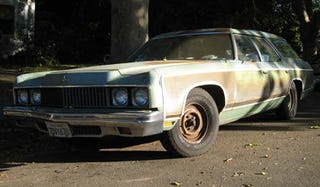 After seeing yesterday's Down On The Alameda Street car, I got to thinking about the whole Porsche thing. Yeah, they're driver's cars, all right... but take off your driving gloves and lose the precise German accent and let's talk about the fun-per-dollar (FPD) thing for a minute. Let's say you had the 12 grand or so it would cost to get a pretty nice 911SC like the one we saw yesterday. What's the FPD score on that compared to what you could do with a mean-looking '73 Caprice Estate wagon and, say, $11,600 worth of improvements?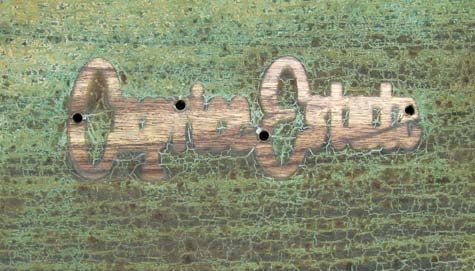 First of all, you'd need to start with a Caprice Estate that once sported fake wood paneling, so that the remaining sunbaked adhesive could give its flanks that textured patina so prized by beater wagon aficionados. This car, spotted lowering property values in Alameda's East End, has patina aplenty!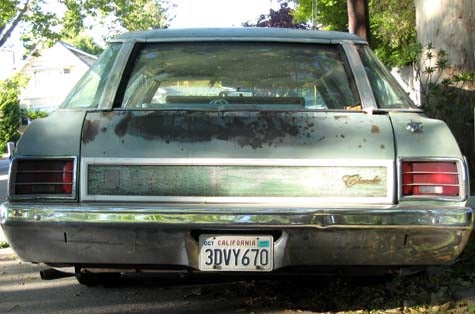 Once you've got your '73 you'll need to do something about the drivetrain. This one's already got a 12-bolt rear, so the addition of a limited-slip diff with, say, 3.90 gears would be just the thing to get ready for the engine upgrade.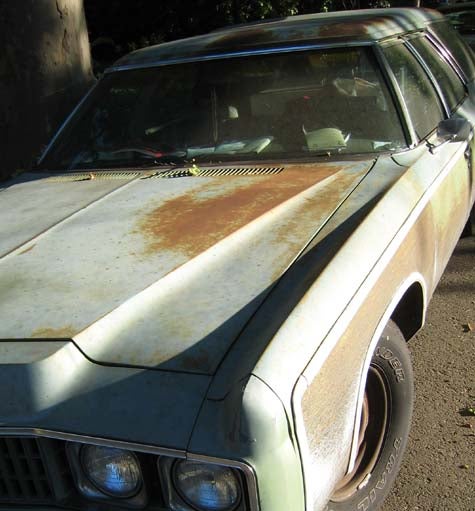 There's probably a 400 small-block under that rusty hood, but you get a way better FPD rating when you go big-block with your wagon, so we'd go ahead and put a 454 with the full complement of off-the-rack speed parts. Oh yeah, with Cherry Bombs for the exhaust.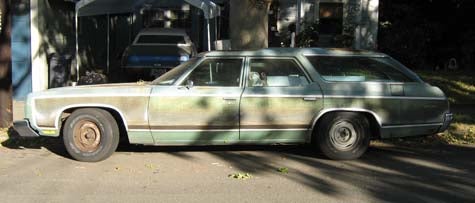 And, of course, it goes without saying that you'd need a 4-speed (but keep the bench seat!).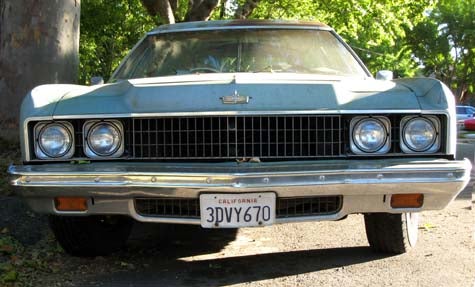 Since even big-blocks and Muncies are cheap next to Porsche components, you'd still have money left over for decent tires, stiff springs, and the biggest swaybars you could possibly fit on a Caprice.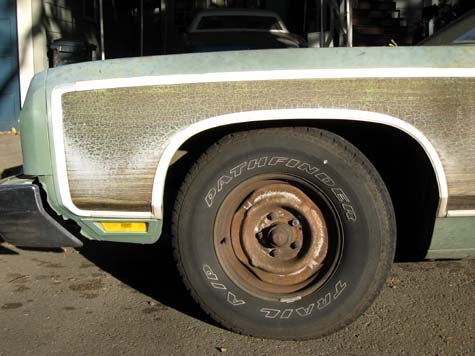 So, we're gonna hazard a guess that a clean '80 911SC gives you 6,000 Fun Units for your $12K, for a respectable 0.5 FPD score (imagine the fun of slicing those tight S-turns with the science of Herr Doktor Porsche at your command!). However, plugging in the attributes of a big-block 4-speed grimetastic Caprice Estate into the Jalopnik Radness-O-Lator produces an amazing 36,000 FPD, for a decisive 3.0 FPD reading! Because, face it, nailing second gear while completely sideways in a huge goddamn big-block station wagon and emerging from a vast cloud of rubber smoke like something out of the Book of Revelations just plain wins. – Murilee Martin
Related:
Vista Cruisers And Sport Wagons, Ahoy! [internal]