Like last week's Bugatti Veyron, this week's Fantasy Garage nominee should be a no brainer. You will also note for the first time I'm including a video, not merely a static image. Why? It's the legendary Ford GT Super Bowl commercial. I find it noteworthy because it was America's first peek at modern car porn. Sure, the Brits have had Top Gear for what? 90 seasons? But in the US of A, we had nothing of the sort, at least until Tom Brady bested Jake Delhomme. And while most of the country was in a tizzy over Janet Jackson's boob, pistonheads were worked up over a sexier exposure. I still recall vividly a slack jaw and my tongue unrolling, cartoon wolf-style. Since that day, I've watched roughly 10 million hours of smoking cars drifting sideways on YouTube, but the Ford GT spot is better than all of them, combined. Of course, no car makes it into our garage on a slick corporate ad alone.
Assuming for a moment you're from Venus, here's the back-story. In the early 1960s Ford was all set to buy Ferrari. The son of Henry Ford wanted to get into racing in a big way and Ferrari was having severe financial troubles. It seemed, to the American at least, to be a match made in automotive heaven. However, rumor has it old Enzo would have rather worn a tie-dyed suit than let his beloved Prancing Stallions fall into grubby American hands. However, despite his dubiousness and, uh, difficult personality, Enzo was no dummy. He knew that allowing Ford to put money on the table, it would raise the bid of Fiat, which bought 50% of Ferrari in 1965. Henry Ford II's offer of $18 million was rejected.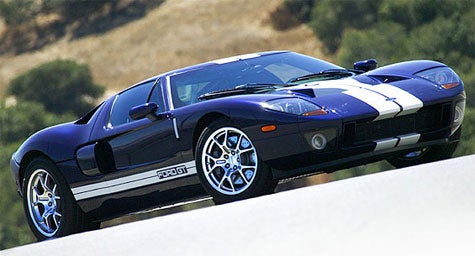 Hank the Second was furious. He vowed to beat Enzo at what had become his own, personal game. Ford wanted to win the 24 Hours of Le Mans, the most grueling, challenging and brutal race of them all. A race, by the way, Ferrari had won six years in a row (1960 through1965). So angry was Ford that he had lapel buttons made up that proclaimed, "Ford Wins Le Mans in '66" and threatened to fire any employee not on board with his decision. The resulting racecar is pure legend. The Ford GT40 ("Grand Touring and 40 inches high") is possibly the most storied racer of all time. The cars utterly devastated Ferrari, putting the smackdown on Enzo four years straight, until the car was banned from competing in 1970. Most remarkably, GT40s finished 1-2-3 in 1967.
The year 2003 marked Ford's 100th anniversary. In commemoration, Hank's great-grandson, Bill Ford Jr., initiated a series of prototype neo-GT40s to be built for the 2002 auto show season. The show cars were styled and designed Camilo Pardo under the watchful, retro-futuristic eye of J Mays. The story goes, these mid-engined (longitudinally mounted) beauties were never meant to be anything but flashy design exercises. But the results were just too staggering. One hundred times better looking than Ford's new Mustang and one thousand times sexier than the reborn Thunderbird (not to mention a billion trillion times cooler than the New Beetle), the GT40 concepts burned up their auto show competitors in 2002, prompting Motor Trend to start a shameless "Give Us Our Ford GT" campaign. In the end, Ford decided to build them. Since they no longer owned the name (and since they balked at Safir Engineering's $8 to $60 million asking price, depending on who you believe), Ford needed a new one. (GT43, which represented the car's actual height, is silly.) Plain old GT it was.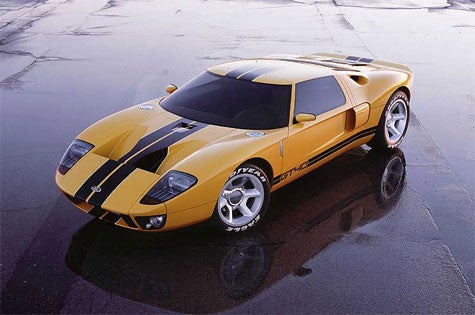 Ford GT40 Prototype. Ford was allowed to use GT40 for the concept cars
But build it with what? All supercars begin with their engines (though the GT had the added advantage of ultra-hot bodywork) and end with their engines. The closest thing Ford had to a hot motor was the 4.6-liter modular V8 out of the Mustang, and that simply would not cut it. Instead, they recast the 5.4-liter V8 from the F-Series pickup in aluminum and bolted on a Lysholm screw-type supercharger. The aluminum heads were lifted from the Mustang Cobra R (and Australian Boss 290) and the whole enchilada is dry sumped to keep oil flowing on hard corners. This setup allowed for 550 hp and 500 lb-ft of torque. In other words, plenty. But, as our dear friend Jezza is quick to point out, America has a fine and long tradition of building straight-line monsters. Ford wanted this car to go both left and right as well.
Ford's SVT engineers worked closely with aluminum experts Hydro Aluminum North America to develop what was at the time the most sophisticated extruded aluminum space frame in the world. The frame consists of 35 extrusions, 30 of which were developed just for the GT. The chassis also features several stamped panels (floorboards), five complex castings and four semi-solid formed castings. The four latter castings serve as mounting points for the double-wishbone suspension at all corners. Both the unequal-length control arms and the coil-over spring-damper units are made of extruded aluminum.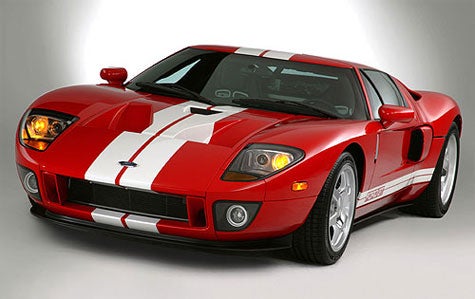 The engine assembly is also, you guessed it, made from extruded aluminum, as is the rear sport bar. And you should see how beautifully that stonkin' "Powered by Ford" engine fits into its cradle. Of course, all the body panels are also made from lightweight aluminum. The GT sports a front splitter, a rear diffuser, a sealed underbody and a through-vehicle venture tunnel that provides 300 lbs. of downforce at 130 mph. The shape is also one of the most aerodynamic production cars ever. Bored yet? Me too. Suffice to say, the GT handles better than your car, pulling 1.00 G on the skidpad in either direction with ease.
Forget the history and the looks and the significance for a moment. What most impresses me about the Ford GT – and what I most want to impress upon you as you weigh your vote – it the sucker's performance. Like very few cars in the world, the GT's actual numbers are much better than those the factory advertised. For their part, Ford claimed a zero-to-60 mph dash of just under four seconds and a top speed of about 200 mph. Awesome numbers, no doubt. But guess what? Car & Driver knocked off 60 mph in 3.3 seconds and top speed is in the neighborhood of 212 mph. Just as incredible is the GT's quarter-mile time of 11.6 seconds at 128 mph. For some perspective on these numbers, the Ferrari 360 Challenge Stradale reached 60 mph in four seconds and ran the quarter-mile in 12.4 seconds at 113 mph. And the Stradale's top speed is a mere 186 mph. And don't think that because the 360 is last year's Ferrari that the GT is currently outclassed. F430s get to 60 mph in 3.8 seconds and run the quarter in 12 flat at 120 mph.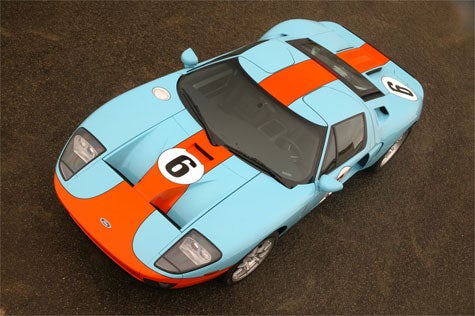 Ford GT Heritage Edition
This level of performance is even more impressive, when combined with the low weight and über-stiff chassis. How impressive? Octane magazine ran a Ford GT around the 'Ring in 7:42. That is fast — world-beating fast. Everybody's favorite American supercar, the C6 Z06 is 300-pounds lighter and one second slower. The ten-times more expensive Veyron bests the GT by just two seconds, as does the McMerc SLR. Part of the explanation for these freaky good numbers is that the GT does not make its advertised 550 hp and 500 lbs. ft. of torque. No, the GT makes much more than that. Just as the Shelby GT500 comes from the factory with its gumption underrated, the GT makes its advertised numbers at the wheels! Actual horsepower is likely in the 615- 630 range. Dang.
Ford initially planned a run of 4,500 GTs. But, as the company was (and is) hemorrhaging billions of dollars per quarter, production of the GT totaled just 4,068 cars, while the Wixom plant that built it (and the Lincoln LS and the Thunderbird) will be shuttering its doors in a week (May 31, 2007). Despite the sad ending, there is no doubt in my mind that the GT is the greatest car Ford has ever built. Even better than the RS200, Davey. In fact, the only argument I can think of against its inclusion in the Fantasy Garage is that it is not the original GT40. But I'm claiming that the new car is better.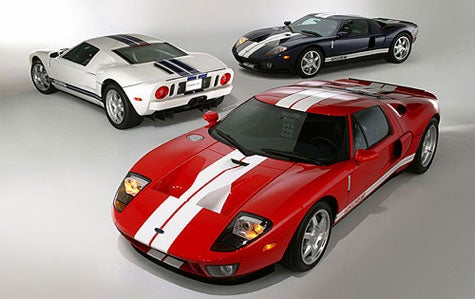 First of all, the OG GT40s are twitchy, stinky racecars, whereas the GT has AC and power windows. True, there was a street version of the GT40 you could buy (the Mk. III) but it was ugly and slow. Second, the successor GT is much faster than the originals ever were. And, in keeping with the spirit of the GT40s, the modern Ford supercar smacked the teeth out of the competition from Ferrari. Oh, and just to pad your votes a bit, Jeff Zwart, who has an unfortunate last name directed the Super Bowl ad, claims that the GT not only outran the helicopter that was filming it, but that the spot was the first time he didn't have to speed up the film to make the car in question look good. I trust you will do the right thing. – Jonny Lieberman
Gawker Media polls require Javascript; if you're viewing this in an RSS reader, click through to view in your Javascript-enabled web browser.
[The Jalopnik Fantasy Garage appears every Tuesday. Readers vote the cars in or out. Sometimes. The idea is that we'll have 50 cars in our Fantasy Farage, the world's greatest mechanic and endless wads of cash. Would you like to nominate a car for the Fantasy Garage? Write tips@jalopnik.com with the subject line "Fantasy."]
The Jalopnik Fantasy Garage, So Far:
· RUF RT12
· Maserati Quattroporte Executive GT
· 1978 Aston Martin V8 Vantage
· Honda 1300 Coupe 9
· 1931 Daimler Double Six 50 Corsica Drophead Coupe
· Ferrari 288 GTO
· Chevrolet Corvette ZR-1
· 1970 Buick GSX 455
· First Generation BMW M Coupe
· Bugatti Veyron 16.4
Related:
Bugatti Veyron 16.4; Edo Competition Ford GT [Internal]