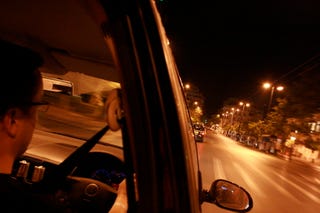 A Phyrgian king had bound a chariot yoke/And Alexander cut the Gordian Knot/And legend said that who untied that knot/He would become the Master of Asia
Upon arrival in Istanbul, we were interned in a VIP lounge at the airport while the government figured out what to do with us. Meanwhile, the gigantic Antonovs bearing the automobiles had been refused permission to land due to the snafu in Germany, leaving us stranded in Turkey while our cars sat hundreds of miles away, having been diverted to the next day's destination of Athens. While most of the rest of the Gumballers hopped a flight to Greece the morning after a party on the edge of the Bosporus, Michael Ross and Alex Roy had arranged for us to hitch a ride with Alikanur and Kemal of the Turkish Taxi team.
The Taxi boys had rented a Mercedes in London for the trip to Hahn, hopped the flight to Istanbul and then set out in a refurbished example of one of the many minibuses that dot the landscape of Western Turkey. The thing was a hoot, and what it lacked in speed, it made up for in range and comfort. But as the day grew later and Kemal still hadn't shown up, we decided to accept Jarod DeAnda and Fly's offer of a ride-along in two of the Volkswagen Sharan support vans.