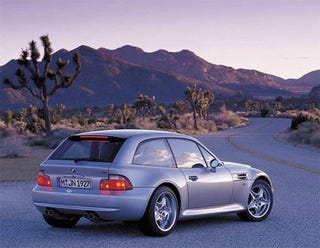 The first-generation BMW M Coupe is a raw, angry sort of beast, the kind of asylum-think car we cannot help but love. It's a machine devoted solely to the art of being bonkers. Let's take a look at its credentials.
This is Flashback Friday, a weekly feature where we republish classic stories from the Jalopnik archives. Think of it as Jalopnik's 'Best Of' series. We chose this particular story because our love for the Clown Shoe still burns bright. —Ed.
More so than just a Fantasy Garage entrant, the original BMW M Coupe may very well be the Official Car of Jalopnik. Before we get to the myriad reasons why that is, let me relate a little anecdote. Like most car enthusiasts nerds, I read about the M Coupe well before I ever saw one. And of course, I knew all about it. Best handling BMW ever, Ferrari-like acceleration, re-donk-ulous rear tires provide gecko-ish grip, sounds like a jet-engined rollercoaster, etc. I knew about the increased stiffness over the M Roadster, that they crammed the E46 M3's straight-six under the long snout and that Adolf Prommesberger, managing director of the M Division, went on record stating that the M Coupe is the car he drives home most nights. But you know how it goes. Every six months the buff books perform a collective circle jerk over the hot piece of German-ass de jour. Right now it's the R8. Come summer it will be the new M3. Hell, I'm guilty of giving the RS4 a no-look handjob or two. But the first time I saw the M Coupe, well friends, it stopped me cold. For while a 911's design may be more resolved/cleaner, and a Ferrari sexier, no car since Shelby's Cobra has looked as muscular and purpose built as the M Coupe.