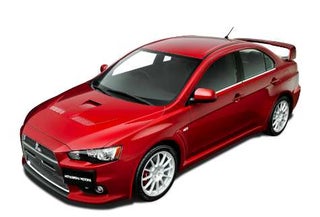 S
Sometimes, after you've been teased to within an inch of your life, satisfaction just happens. Such is the case with the new Mitsubishi Evo X, which the company revealed today in Japanese domestic market spec, along with a release stating its intentions to show it at the Tokyo motor show later this year (not Frankfurt). Among the few tech details are the six-speed automated manual, which will share functionalty with VW/Audi's DSG box, and Mitsubishi's S-AWC3 traction and handling system, which the company says integrates torque control and braking management with the four-wheel drive system for stability's sake. No word on horsepower, but most say 300+ is likely. The potential for SUPER AMUSEMENT, however, is guaranteed. – Mike Spinelli
Press Release:
Mitsubishi Motors announces The names of two models due for Japan domestic market release this fall
Tokyo, 26 April, 2007 — Mitsubishi Motors Corporation has announced the names of two new models. The U.S.-market Lancer will be renamed "GALANT FORTIS" for the Japan domestic market. Also, Mitsubishi's rally-inspired, high-performance 4WD sedan will carry the name "LANCER EVOLUTION X".
The development concept for the new Galant Fortis1 calls for a "new-generation global sedan with world-class levels of safety, environmental performance and comfort". Distinguishing features include: a high-rigidity platform that delivers excellent crashworthiness; a new 2-liter engine with aluminum cylinder block that delivers high power output and returns excellent fuel efficiency; exterior styling that imparts a broad stance and sporty lines; and a spacious, well-appointed cabin.
The development concept for the all-new Lancer Evolution X2 specifies a "new-generation high-performance 4WD global sedan that allows all levels of driver to enjoy the car's speed and handling with ease and in safety". The new model features Mitsubishi's S-AWC3 traction and handling system, that integrates the control of drive torque and braking management with the four-wheel drive system to help realize highly responsive and intuitive handling in addition to outstanding vehicle attitude stability. Other examples of Mitsubishi Motors' latest automotive technology to be featured in the new model include a new lightweight and high-performance 2.0-liter turbocharged MIVEC4 engine with aluminum cylinder block and a 6-speed automated manual transmission that contributes to exceptional performance with improved fuel economy. The performance-driven design makes the car's extreme potential clear, while cockpit design focuses the driver's attention on operating his machine.

1 Latin for strong, steadfast, courageous.

2 "X" ("Ten") stands for the tenth iteration of the Lancer Evolution released on the Japan domestic market. (In other markets the car will be called "LANCER EVOLUTION".)

3 Super All Wheel Control

4 Mitsubishi Innovative Valve timing and lift Electronic Control System: Mitsubishi Motors variable valve system
Related:

More on the Evo X