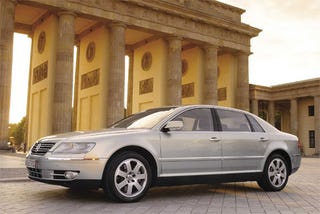 Yes, the Phaeton. Like everyone else, when I first heard Volkswagen would be producing a $100,000 car, I was aghast. Was this the same Volkswagen that built my friend Tristy's Scirocco? Aside from constantly belching black smoke, that car's passenger seat would snap off its runners on every left turn. Six figures for a fat Passat? I'll pass, thanks. But then, details started trickling in. The Phaeton would share an all-wheel-drive, air-suspended platform with both the Bentley Continental GT and the Audi A8L, including the mega-compact 6.0-liter W12. That's some Brucetastic DNA. Snob-wise, the Phaeton would be at the correct end of a one-way street. While some jokers might climb into a Bentley and cringe at the Volkswagen-sourced gear selector, ain't nobody's getting into a Phaeton and bemoaning, "Hey, that's the knob-a-roo from the Continental GT – gross!" Sure, the biggest-ever VW would come from a fine family. But then again, so do the Hilton sisters.
Think of these three VeeDubs as the Brothers Karamazov. The Bentley is Dimitri, physically mighty, a bit debased but most of all a sensualist. Champagne? Women? Bring it on. The A8L is Ivan, a strict rationalist and logical to a fault. The Phaeton is Alexei, Dostoevsky's hero and spiritual center. Like in the novel, the Bentley and the Audi are both trying to kill their father. They both love his (R&D) money but find the old man a bit of an embarrassment. But the Phaeton, like Alexei, is out to redeem the patriarch. And if you recall Volkswagen's father (let's say the Bug, not Hitler), this is quite a tall order. Like the murder trial that unfolds, it's not the result in question, but the intent. Five years ago, VW's archduke Ferdinand Pi
ch was in sole possession of the cash, boffins and cojones to attempt not only yanking Volkswagen up by its own lederhosen, but building the very best car in the world. He succeeded by half.
There are those who call the Phaeton a mistake. Some refer to it as "Pi
ch's Folly." Worse, there are those who say Volkswagen had no business building a car that competes with the likes of BMW, Lexus and Mercedes-Benz. This type of "know your place" thinking is reactionary, wrongheaded conservatism at its worst. What if Chevrolet had never bothered with the Corvette? What if Ford never greenlit the Mustang? What if Carroll Shelby had kept on farming chickens and not taken on Enzo Ferrari? Naysayers are always quick to chastise a carmaker for overstepping their brand, to which I answer, "Buick GNX." Even Farago, who's issued such pronouncements as, "Volvo should only make safe cars," was so impressed by the Phaeton that he defied his own mantra and declared it a hit. To reiterate, that type of can't-do thinking would have BMW still popping out inexpensive bubble cars while poor Volkswagen lumbered along with nothing but the Beetle.
The Phaeton W12's stats are humbling: 444 horsepower squeezed from one of the world's oddest and most complex engines. (All pistonheads would be well served by reading the technical mumbo jumbo behind the VR6 and W engines.) For comparison's sake, the Rolls Royce Phantom produces just nine more horsepower from a larger 12-cylinder. Inverse to last week's Corvette ZR-1, the Phaeton's engine is the least interesting thing about the car. According to a tall, blustery Brit named Jeremy, if one were to remove the Germanic 155 mph limiter, the Phaeton will top out at 201 mph, which would be faster than a contemporary Z06. Is this totally true, or more fibbing from Clarkson? Who knows. Still, have a look at these German hoons doing 174 mph without a speck of trouble. That's remarkable for any 5,100-pound car, let alone a VW. But an engine is just an engine.