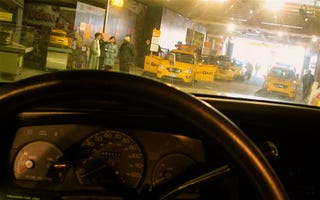 It's 10:46pm California time as I sit down to write this. But I'm not in San Pedro. I'm somewhere near Saint Marks Place in New York City, and the only sounds in the room are the tapping of two Apple keyboards and the rattling dull whine of air filters sucking the cigarette smoke out of the air of a spacious loft replete with a machine gun and a glass-encased model of the Bismarck. On the chairs at the bar hang three jackets, with a black, non-descript number in the middle. To its left is a navy blue Red Kap work jacket with a lakes modified roadster screenprinted across the back, reading "GEARHEAD." To its right hangs a high-visibility orange example sporting a rearing horse patch on the sleeve denoting a foreign police agency.
The night before, I'd been talking to Wert at the Manhattan Classic Car Club. In classic fashion, he looked out the window only to see a man in that same jacket smoking a cigarette and began to mildly panic. "Davey. Davey! I think the fire marshal is here!"
"Ray," I replied, "That's not the fire marshal. That's Alex Roy."
For the last few months, I've been helping the longtime friend of (and occasional contributor to) tha Jalop whack his upcoming memoir into shape. He swears he's finishing the last two chapters tonight. I swear I'm going to get this draft of "Fast as a Shark" done before I rest, despite being entirely sleep-deprived.
Coming off of a lackluster New York Auto Show, Alex's Polizei jacket and my Gearhead jacket hanging there as we attempt to tell stories worthy of publication, got me thinking about the contrasts between circumstances that create the awesome and ones that contribute to the black hole of suck.
For my money, best part of the New York show was the Taxi 07 exhibit, featuring the RIDES Crown Vic hi-riser, the Smart Design Kia Rondo cab concept, and the ungainly-yet-fascinating Standard Taxi. Being a California boy, I've never had much use for taxis, even in San Francisco. In New York, when one is pressed for time or has a bat's chance on Saturn of immediately grasping the lay of the land and figuring out bus and subway routes, cabbing it is simply a fact of life. But even for non-New Yorkers, the yellow cars are a symbol of what's regarded by many as a town to rival the Londons, Parises and Romes of the world, and indeed in the production of items of cultural import for both export and consumption at home, its only true rival is Los Angeles.