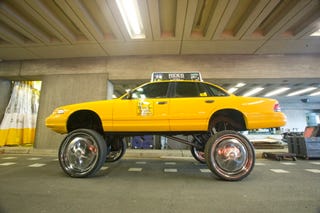 The New York taxi as we know it has been around for 100 years as of this Wednesday. Some of the Crown Vics in the medallion fleet look as if they've been around for twice that long. Not this one. The crew at RIDES have built a skyscraper cab to celebrate this historic anniversary. The Donk-o-Cab will be on display at the New York Auto Show, and may be pressed into service post-show as a genuine New York City medallion was part of the build up. Just don't let the 30-inch spinners hypnotize you into paying too much fare, especially if the Mooninites are driving. Full press release after the jump. – Mike Bumbeck
12,700 NYC Taxis To Get Cheerful Floral Designs; We Learned About Love in the Back of a Dodge: Shatner!; More Crown Victoria
RIDES Magazine celebrates the 100th anniversary of the New York City Taxi with a nine-foot-tall skyscraper cab
New York, NY (April 3, 2007) - In celebration of the 100th anniversary of the modern-day taxi in New York City, RIDES Magazine will unveil a one-of-a-kind hi-riser taxi that sits nine-feet-tall on Wednesday, April 4, at the 2007 New York International Auto Show.
RIDES Magazine produced the tricked-out taxi for TAXI 07, an exhibit honoring 100 years of the New York City Taxi. The custom cab boasts 30-inch chrome wheels and tires, and was built in true NYC style, designed to turn heads with sky-scraping appeal.
"Standing out is no easy task in this city," said RIDES Magazine Executive Editor Brian Scotto. "So when we set out to build this skyscraper cab, we knew it had to be literally over-the-top to turn heads, but still embrace that classic New York swagger."
The car was inspired by the hi-riser movement - an urban automotive trend most often associated with "Donks," which are customized 1970s Chevy Caprices and Impalas on oversize wheels and tires, with lifted suspensions and loud paintwork.
RIDES Magazine will exhibit the taxi outdoors in the inner roadway of the Jacob K. Javits Convention Center, at 11th Avenue and 35th Street in New York City, from April 6 to 15. The display will be open to the public.
Vehicle Stats:

1996 Ford Crown Victoria with 30-inch MHT Dub Esinem wheels, 315/30/30 Pirelli Scorpion Zero Tires and custom lifted suspension, built for RIDES Magazine by Don Whitmire of Wheel Concepts, Staten Island, NY.
About RIDES Magazine

RIDES is an urban automotive lifestyle magazine that represents the worlds of "Street, Speed, Sound and Style." Unlike any other magazine in the marketplace, RIDES bridges the worlds between enthusiast and consumer magazines and captures the automotive lifestyle that appeals to both Diddy and Donald Trump. RIDES is published nine times per year and reaches 8 million readers annually. RIDES was the first mainstream magazine to cover the hi-riser scene and publishes DONK, BOX & BUBBLE, the only magazine dedicated to these types of cars.