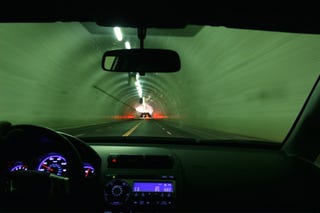 Exterior Design: ***
Fans of Hello Kitty's ber cuteness will likely enjoy the Fit styling a bit more than those who dig GI JOE with lifelike hair. We could also be wrong about that. The design is entertaining if not a textbook case of form following function. Sport version adds trick rear spoiler and other sporty bits to give a bit more GT style to the cute box look. We like the goofy grin, but you may not.
Interior Design: ****
Everything is right where it should be. Buttons click accordingly. Plastic is not super fancy, but is well executed to the point it helps the driver not think of it as bad plastic. Plastic is used in a plastic fashion that functions exactly as expected. Simple and intuitive knobs thankfully replace Apollo rocket program button-and-switch arrays. Lots of room even for large guys thanks to an efficient use of space.
Acceleration: ***
Respectable power for 1500cc's of VTEC power. Not much to play with in the lower RPM ranges, but completely enjoyable above the 3500 or so rpm mark. The opening of valves is accompanied by just enough intake trumpet and valve growl to provide freeway on ramps and right foot rev happiness with a proper accompaniment. The little engine almost tells you directly to install a cold air intake for improved sonic amusement.
Braking ***
In normal mixed use driving around the mean streets of Los Angeles and Ventura counties the binders functioned as they should. Not much of a nose dive decelerating off freeway ramps, and no complaints in amateur driver avoidance maneuvers. Even sheets of rain and errant Ford vans with rolls of carpet extending out its flapping rear doors brought no braking drama from the Fit.
Ride ***
While we can't vouch for the standard Fit the sport version was a little choppy at the California speed limit over the 101 going through the valley. Around town at city speeds the Fit ate up the chuckholes and steel construction plates fairly well for a tiny short wheelbase car with smallish wheels. Our passenger didn't notice any chop but did keep leaning over to check corner speeds.
Handling ****
The Fit stays planted on line into corners and leaves with surprising predictability for a front driver. The engine spins out just enough power to the front wheels as not to compete with lateral traction, making the Fit a fun handler through chicanes and corkscrews. A set of UHP tires could turn the Fit into big fun and return a to a smile to the driver bigger than the one it wears.
Gearbox *****
The Fit gearbox telescopes precision right up though the driver's hand with a satisfying click and subsequent click from the shifter with each gear selection. We thought about shifting for all of three seconds and then shifted according to engine soundtrack. Click-klik. Klik-click. VTEC-klik. Automatic Fit Sport is available with paddle wheel shift selector.
Audio/Video ***
Even though he's been known to shill for Mitsubishi, we tested the system using the barely intelligible yet stalwart croakings of none other than Mark E. Smith accompanied by a (surely) now disbanded version of the Fall. The stock system won't win any decibel contests, but the single knob control worked well and was welcome in a world of overly complex audio interfaces. Auxiliary input in lower center console perfect for use with that portable 8-Track player. Bonus for blue tone lighting.