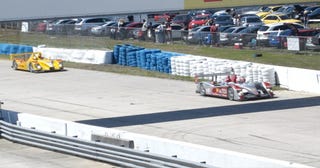 What is it at the core of autosport? What are the facets and edges of this jewel that holds some of us so captive? A few quick words and phrases come to mind: machine vs. machine, driver vs. driver, sound, fury, glamour and glory. Endurance sports-car racing gathers all these angles and takes them to extremes. Machines vary wildly in their look, structure and abilities, but they're all thrown together into the same battle. Drivers must not only best the opponents in their class, but also be ready to tangle with traffic in other classes, as if it were a 12-hour chase on the interstate. Stand by the track with your eyes closed and you'll hear the tune of internal combustion instruments ranging from the gentle thrum of an Audi R10 to the skull-cracking wail of an Aston-Martin DBR9. Open your eyes and you'll see the smooth shape of a Panoz contrast with the angles of a Lola prototype and with the fuzzy lines of drunks in green, sequined top hats. It was St. Patrick's Day, after all.
Sebring International Raceway sits above Lake Okeechobee, dead in the middle of southern Florida. It's a decommissioned bomber base used now for a wholly different kind of battle. The 3.7-mile circuit is one of the more punishing venues on the ALMS calendar, owing to its bumpy surface and erratic weather. Molehills become mountains over the course of a race. An uneven joint in the concrete is a hiccup when you hit it, but try having the hiccups for 12 hours.
An American Le Mans Series event is like the circus coming to town. Rings of other attractions surround the main event. The Speed (Channel) World Challenge Touring and GT classes each had their own races last weekend, as did vintage racers and one-make series of Panoz Esperantes and open-wheeled Star Mazda cars. The crowd was as diverse as the field, Maseratis filed in behind duelie pickups with bumperstickers that read, "If it's got tits or wheels it'll give you problems." I've also never seen so many people without arms in one place before. But remember, this is gator country. Now, on to the photos.
The sun set as the race entered its home stretch. The Porsche prototypes struggled to stay near the top of the order as they faced a series of electrical problems. Andretti Green Racing (Kanaan, Franchitti, Herta) and their Acura ARX P2 car had a minimum of problems and took the class lead ahead of the Acura Lola of Fernandez Racing (Fernandez, Diaz, Martinez) and the eventual third place Penske Racing Porsche of Castroneves, Bernhard and Dumas.
The GT1 Corvettes driven by Max Papis, Olivier Beretta, Oliver Gavin, Ron Fellows, Jan Magnussen and Johnny O'Connell took first and second in their class and finished well ahead of several prototype teams, including both Dyson cars.
And so it came down to GT2, the least powerful class in the whole thing, to give us the best race. The Spyker Squadron team put on an impressive showing with their C8 (in Dutch orange, naturally), but it wasn't enough to contend with the more experienced teams.
Jamie Melo in the Risi Competizione F430 and Jorg Bergmeister in the Flying Lizard 911 GT3 RSR had risen above the fray as ten o'clock rolled around and fireworks exploded overhead. The two drivers laid absolutely everything on the line, as they charged for the finish. Twelve hours or racing boiled down to hand-to-hand combat, Porsche and Ferrari engines screaming only slightly louder than the fans who were watching as the cars jostled for position. In the end, it was the Ferrari with both the position and the power as Melo flew past the checkered flag. After twelve hours and half a rotation of the Earth, Bergmeister had lost by two-tenths of a second. He may not have been happy, but none of the fans who watched felt cheated. – James Gribbon
Related:
Sebring GT2 Finish Mayhem; You Are There: The American Le Mans Series New England Grand Prix, July 1, 2006 [internal]