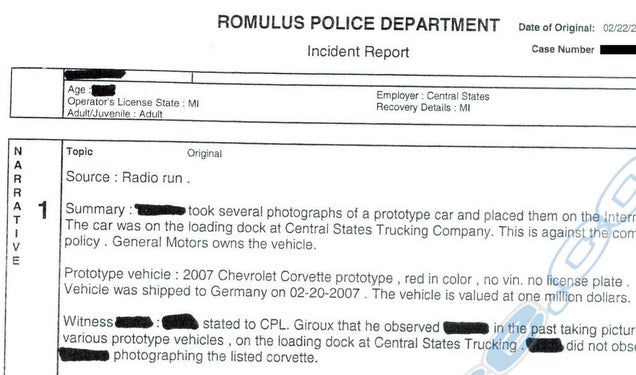 S
Yeah, we couldn't come up with anything better to call it either (feel free to drop your suggestions in the comments below and we'll potentially use the best one). It looks like our breathless buddy Josh Oliver breathlessly procured a copy of the police report in — whatever we're calling this thing. So what can we glean from the document? Well, the car was on the loading dock at Central States Trucking Company and it's a
"2007 Chevrolet Corvette prototype, red in color, no vin. no license plate. Vehicle was shipped to Germany on 02-20-2007. The vehicle is valued at one million dollars."
In addition, we've also learned
"at this time it appears that [REDACTED] will be fired from his job and possible civil action will be taken."
Oopsie. Check out the rest over on Josh's breathless General Motorgasm of a site via the link below. Also, feel free to check back through our gallery demonstrating ways to get caught taking pictures of a million dollar Corvette SS prototype on it's way to Germany. – Ray Wert
TheGMSource Has Obtained The Police Report Filed In Romulus, Michigan [TheGMSource.com]
Related:

We're Not Yet In Jail: More Speculation On The Corvette SS Spy Photos, Corvette C7; Corvette SS Spy Photographer Now NOT In Jail?; Corvette SS Spy Photographer Now In Jail!; Spy Photos: I Am The Corvette SS Powertrain Mule [internal]