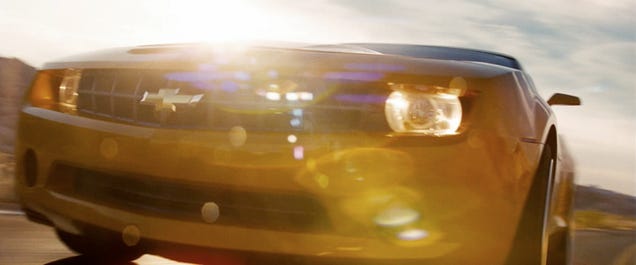 Yes, it's officially the end of the world. The Decepticons are in the gate, and evil now goes by another name — General Motors. The General's officially added their name to a "power partnership" with Paramount Pictures today at the General's pre-Oscar fashion event in Hollywood for joint promotion of the new upcoming live-action Transformers movie. As part of the gala, they helped introduce "four...movie stars." Namely they're who we already know about, the disguise-side alt-modes of everyone's fan fave Bumblebee (Camaro Concept), Jazz (Pontiac Solstice), Ratchet (Hummer H2), Ironhide (GMC TopKick). The press release, which we've got below the jump, treated us to at least one hackneyed and overused phrase: "GM will roll out a fully integrated marketing and promotional effort..." But, the killer for us is the blatant attempt at pandering to those readers of Jalopnik who may love the 'Formers, claiming we were one of those "quick enough to have freeze-framed
." I mean, seriously, you don't need a freeze-frame to catch the huge-ass Chevy logo, do you? Anyway, the press shots are in the gallery below for you to check out (as well as you can also check out our full Transformers gallery, or check out the trailer here) — we're going to go fervently pray Bob Lutz doesn't get a cameo as a jet pilot or something. – Ray Wert
'Transformers



' and GM Form Power Partnership

Live-Action Movie's 'Heroes' Attend 6th Annual GM Ten Event;

DreamWorks/Paramount Film Slated to Debut July 4

LOS ANGELES - Four new movie stars - "Bumblebee

," "Autobot Jazz

," "Autobot Ratchet

" and "Ironhide

" - from DreamWorks Pictures and Paramount Pictures', in association with Hasbro's, forthcoming July 4th action-adventure release, "Transformers

," were introduced this evening by General Motors Corp. (NYSE: GM) as it hosted its sixth annual "ten" pre-Oscar fashion event at Paramount Pictures in Hollywood.

"Bumblebee" changes from the classic Chevrolet Camaro, and is a central character in the saga of aliens who take mechanical forms when on Earth "Autobot Jazz" converts from a Pontiac Solstice in a hardtop format. A Hummer H2, modified as a rescue vehicle, changes into "Autobot Ratchet" and "Ironhide" changes from a GMC TopKick medium-duty truck. They all star in this summer's live-action blockbuster, "Transformers," from DreamWorks Pictures and Paramount Pictures, in association with Hasbro, which will premiere July 4.

Buzz about the roles that these vehicles play in the movie has been spreading since a quick glimpse of the new Camaro was spotted in Paramount's newest "Transformers" trailer, which began appearing in theaters on Dec. 20, 2006. This clip, which is currently the most-viewed movie trailer on Yahoo!, also contains images of the Solstice, H2 and TopKick for fans who were quick enough to have freeze-framed it.

"'Transformers' is a compelling project and offers us a global platform for marketing GM products and building our brands," said Mike Jackson, GM North America vice president, marketing and advertising. "It represents the perfect intersection of entertainment, marketing and design."

"The first time I saw the new Camaro, while touring the GM Design Center, I knew immediately that it would be the perfect 'Bumblebee,'" said Michael Bay, the film's Director. He continued, "It's got beautiful lines and a classic, timeless look. There were no other cars that came even close. I have had a great working relationship with GM for many years and am psyched to be working with them on 'Transformers.'"

Gerry Rich, President of Worldwide Marketing at Paramount Pictures, added, "We are thrilled to be working with GM on this incredible and action-packed film. Having integrated the cars as characters in the film is truly an innovative concept that will help eventize this exciting 4th of July tentpole film."

GM will roll out a fully integrated marketing and promotional effort around the film in the near future, including a major Chevrolet promotion, according to Jackson.

Images, scenes and clips - all things "Transformers" - may be found at the official Web site: http://www.transfomersmovie.com. Images of the four GM vehicles as they appear in "Transformers" are available online at http://media.gm.com.

About "Transformers

"

Our world will be transformed on July 4 when aliens make Earth their final battleground. As the forces of evil seek the key to ultimate power, our last chance for survival rests in the hands of young Sam Witwicky (Shia LaBeouf). DreamWorks Pictures and Paramount Pictures present, in association with Hasbro, a di Bonaventura Pictures Production, a Tom DeSanto and Don Murphy production of a Michael Bay Film, "Transformers," starring Shia LaBeouf, Tyrese Gibson, Josh Duhamel, Anthony Anderson, Rachael Taylor, Megan Fox, with John Turturro and Jon Voight. Directed by Michael Bay from a story by Roberto Orci & Alex Kurtzman and John Rogers and a screenplay by Roberto Orci & Alex Kurtzman, the film is based on Hasbro's Transformers

Action Figures. Producers are Don Murphy, Tom DeSanto, Lorenzo di Bonaventura and Ian Bryce and Executive Producers are Steven Spielberg, Michael Bay, Brian Goldner and Mark Vahradian. This film is not yet rated.

About Paramount Pictures

Paramount Pictures Corporation (PPC), a global company that produces and distributes filmed entertainment, is a unit of Viacom (NYSE: VIA, VIA.B), a leading entertainment content company with prominent and respected brands including Paramount Pictures and DreamWorks. The company's labels include Paramount Pictures, Paramount Vantage, Paramount Classics, DreamWorks, MTV Films and Nickelodeon Movies. PPC operations also include Paramount Digital Entertainment, Paramount Home Entertainment, Paramount Pictures International, Paramount Licensing, Paramount Studios, and Worldwide Television Distribution.

About GM

General Motors Corp. (NYSE: GM), the world's largest automaker, has been the global industry sales leader for 76 years. Founded in 1908, GM today employs about 284,000 people around the world. With global headquarters in Detroit, GM manufactures its cars and trucks in 33 countries. In 2006, 9.1 million GM cars and trucks were sold globally under the following brands: Buick, Cadillac, Chevrolet, GMC, GM Daewoo, Holden, HUMMER, Opel, Pontiac, Saab, Saturn and Vauxhall. GM's OnStar subsidiary is the industry leader in vehicle safety, security and information services. More information on GM can be found at www.gm.com.
Related:

This Is Our Country, This Is Our Autobot: Transformers Trailer Hits The Web, Features Camaro Concept; Exclusive Transformers Movie Update: So That's What A Robot Mustang Would Look Like; An Exclusive Non-Embargoed Transformers Update: A Ford Mustang, Transformed; Transformers Toys For Tots: Ratchet's A Whore Of A Hummer [internal]