At the drivers' meeting before the D1GP All-Star event, Keiichi "Drift King" Tsuchiya calmly asked those gathered how many were driving hachi-rokus. Seven raised their hands. Drivers of the venerable high-winding AE86 Toyota Corollas were to receive special instructions. In a field increasingly filled with high-horsepower monsters of V8 and other variety, the hachi-rokus would have to set a higher standard. Tsuchiya said that if three of these hachi-rokus were to achieve drifting by the middle of the first high-bank, that subsequent high-bank drifting would become the requirement for all the hachi-rokus. Tsuchiya also informed all drivers to graze, yet not topple the apex cone out of the high bank in order to receive maximum points score. This was important foreshadowing.


As announcer, translator, and judge Toshi Hayama later informed us all, the hachi-roku is the sworn nemesis of eventual D1GP All-Star event winner Ken "Nomuken" Nomura and his 533HP R34 Skyline. Hachi-roku is Japanese for eighty-six, which in itself is the latter part of the Toyota Corolla's AE86 chassis designation.
At the heart of the hachi-roku is the twin-cam Toyota 4AG. Note individual throttle bodies for maximum effective air-flow and sonic amusement. The symphony of rotaries, inline-sixes, fours-bangers, and V-8's is what makes the drifting soundtrack worth listening to.
The focus of the All-Star event was for Japanese and US drivers to host drivers from other parts of the globe. Flag waving was thereby encouraged.
Representing Malaysia was Tengku Djan, who had encountered the wall on Saturday. D1GP founder Daijiro Inada empowers repairs by way of stylish suit. Find more Tengku in the gallery.
Team Orange drivers Kumakubo and Tanaka opened the D1GP All-Star Match at Irwindale Speedway by hurtling around the course Joie Chitwood Thrill Show style - in opposite directions!
Katsuhiro Ueo absolutely refuses to take his foot out of the throttle of his hachi-roku for any reason.
Closeup of Ueo's personal tire smoke ventilation removal system.
Djan's hachi got a straightaway spanking at the hands of Yoichi Imamura's Nissan 350z.
2005 All-Star winner Vaughn Gitten Jr. got his supercharged Mustang into the running but went out first round against Djan.
Ireland's Darren McNamara absolutely slayed in his turbocharged AE86. Watch for this man in the near drifting future.
Samuel Hubinette took the hemi-mo-powered Dodge Charger into the All-Star in a big way.
Rhys Millen disabled his turbocharged Pontiac Solstice during practice on Friday. The team rolled down to the shop and affected repairs for a return to the All-Star on Sunday.
Hey Pal, look where you're going. Actually Daigo Saito is looking back to see where his cobbled-by-a-cone opponent went. Low slung coolers and apex cones don't mix well.
The sound of the anti-lag system on Tsuyoshi Tezuka's R32 Skyline is alone worth the price of a ticket. The bumper is here showing effects of a wall grazing. The gallery holds more drifting goodness. – Mike Bumbeck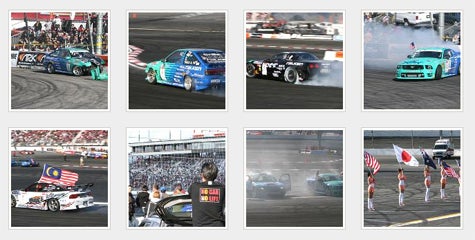 Related:
Team Orange Cleans Up at D1GP Final Round; Jalopnik Hits the D1GP [Internal]